There are many reasons for you to decide whether you want to move house, such as changing schools, moving companies, running out of current rental contract, or simply want to change your living environment.
A few of you will be moving for the first time, probably thinking about dozens of questions related to the procedures when moving and as well as the transportation of furniture.
Therefore, in this article, we will introduce to you how foreigners living in Japan often do when moving house and necessary procedures.
The Main Ways to Move House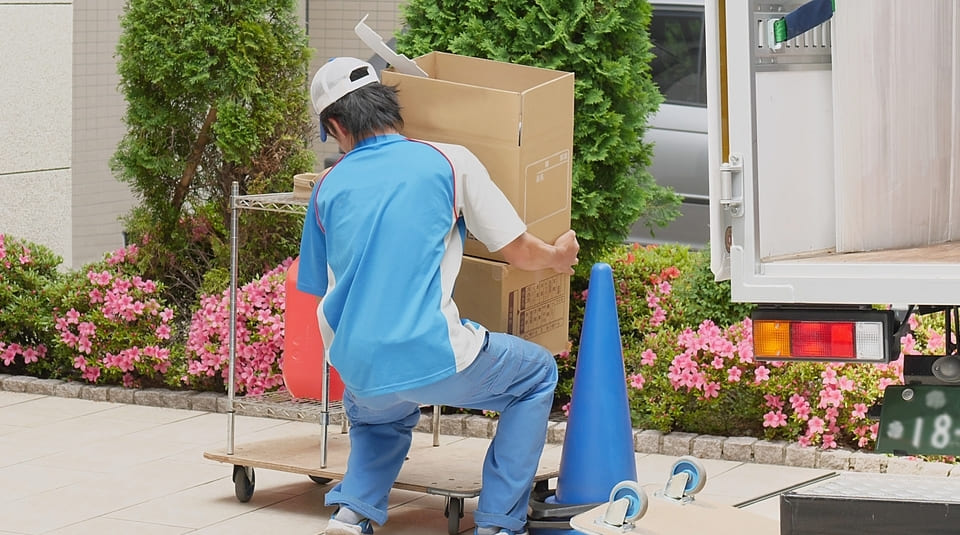 There are three main ways to move house in Japan.
Use a moving company
Ask friends or acquaintances for help
Do it by yourself (or with family)
This time, we would like to introduce the way of using a moving company, which is the most popular method of moving house.
Even if you ask friends or acquaintances to help you, or if you do it by yourself (or with family), the procedure for moving is almost the same.
Using a Moving Company
When requesting a moving company, if you can speak Japanese, it is a good idea that you first use the Internet comprehensive quote service.
Even under the same conditions, the moving fee varies depending on the moving company. However, if you request a quote from one by one, it will take time and effort. So we recommend you using a bulk quote service to compare the rates of multiple vendors for free.
For example, enter the required information on the site below, and the available vendors will offer you the quoted price.
If you are interested in one company, you can listen to more detailed information by contacting them directly by email or phone. Depending on the company, you can get a quote on the Internet, or they will come directly to your home to check the amount of luggage and give you a detailed estimate.
If you ask for a quote, almost all movers will do it for free. Choose a moving company that suits you.
English Available Moving Companies
However, there may be some people who are a little worried about the interaction in Japanese. If you are such a person, please consult with the following moving companies that support English.
Procedures When Moving House
Here we will introduce the procedures required when you move.
STEP1: Before Moving
Determining Where and When to Move
As the first step, you need to decide your new house and the timing of moving.
In Japan, March to April coincides with the times of transfer, employment, and admission. So if you move during this time, the moving fee will be higher. Also, in recent years, due to a shortage of workers, moving companies are often busy.
Therefore, we recommended that you avoid this season or start preparing early.
Please refer to this article for the flow of searching for a house for rent.
Selection of Moving Company
Once you have decided when and where you want to move, select a moving company that will carry your furniture and luggage.
Please refer to the previous chapter and use the bulk quoting service or consult with an English available moving company.
Notification of Moving Out of the Current House
If you decide to move, tell the property management company or the landlord of your current residence of your moving out.
For most Japanese rental contracts, it is common to tell the move out one month in advance.
STEP2: Preparation Before Moving
Confirmation of the Moving Schedule
After consulting with a moving company and deciding on a moving date, make sure you know by when you will complete what procedures.
Please refer to the contents introduced in this article.
Luggage Packing
If you have luggage that you will not use before moving, pack it as soon as possible. Items you use daily will be packed the day before or the day of moving.
Disposal of Oversized Waste and Unnecessary Waste
If you're packing your luggage, you'll find some unnecessary things. Since there are limited days when you can take out the trash, it is desirable to move on a schedule that allows you to dispose of it before you move.
In particular, oversized garbage often requires reservations, so check it early. Please check this article as well.
Children's Transfer of School, Kindergarten, or Nursery School
If you have children, please prepare the transfer procedure of the school, kindergarten, or nursery school. Contact each one, and they will tell you the required flow.
STEP3: Procedures to be Done by the Day Before Moving
Procedures for Moving Out at the Municipal Office
If you are moving to a different city, go to the current city office for the procedure of moving out. In general, you can complete it 14 days before the moving date, so adjust your schedule. Please also check this article.
If you are moving within the same city, you will have to change the registered address after moving. In this case, as well, you can complete the procedure at the municipal office.
Moving Procedure for Electricity, Gas, and Water
You need to contact each of the electric, gas, and water companies to perform address change procedures.
Below are the pages related to the moving procedure of Tokyo Electric Power, Tokyo Gas, and Tokyo Metropolitan Waterworks, so please take a look.
Transfer of Postal Items
There is a service available at Japanese post offices that will forward mail sent to your previous address to your new address for one year after you move.
You can also receive postal items for which you forgot the moving procedures, so be sure to apply. You can apply from the following.
Moving Procedure for Internet Line
If you have an internet contract with your current address, you will need to change it.
In many cases, you can also do the procedure on the Internet. So please check with the company you are using.
Moving Procedures for Other Services
If you have any other services that you are using individually, change the address.
There may be a case where an Amazon delivery address is the same as the previous address, and you may place an order without realizing it. Please identify the service you have contracted for/registered and perform the procedure as much as possible.
Notification of Moving House to Your Company
If you work for a company, report your moving to them. Your new address may change your commuting allowance.
Change of Registered Address for Insurance, Bank, Mobile Phone, and Credit Card
Let's notify the contracting companies of the address change.
You can use the service without changing your address. However, in that case, when they send an important document, it will arrive at your previous address.
It may cause trouble later, so be sure to notify your address change.
STEP4: Things to Do on the Day of Moving
Final Packing
Pack things that you haven't packed for daily use.
For items that you will use immediately after moving, such as a hairdryer, write the contents name on the cardboard to make it easier to understand.
Final Confirmation with the Moving Company
Let the moving company know if you want to ask something. Also, if there is an instruction from the vendor, follow it.
The support range varies depending on the plan, but the person from the vendor will carry your luggage out. Also, there is no tip culture in Japan, but they will appreciate it if you offer them some drinks.
Cleaning the Current House
If the room you move out of remains dirty, it will cost extra money for cleaning. Let's clean it before leaving.
Moving Out Inspection and Key Handing Over
Perform a moving out inspection with the presence of a real estate company. If any scratches or stains are found on the property, they will charge for the restoration of the original condition.
If there is no problem, return the key and finish.
STEP5: Things to Do After Moving to a New House
Present for the Moving Company
Similar to when carried out luggage at the previous house, let's present some drinks to the staff of the moving company.
Cleaning the New House
Although the new house has been cleaned beforehand, it's a good idea to clean it by yourself easily.
If you start the contract for the property before moving, you can clean the room smoothly before your luggage comes.
Unpacking
After your mover brings in your luggage, unpack it from the one you want to use immediately and organize it.
Start Using Electricity, Gas, and Water
If you apply in advance, you can use electricity and water immediately. As for gas, the supplier needs to come to your new house to open the cap, so reserve it beforehand.
For details on the opening of the gas, please refer to this article as well.
Moving In Procedure at Municipal Office
Go to the municipal office you are moving to and submit a transfer notice. Please check this article for details.
If you are moving within the same area, you will have to submit a notice of a changing address at this time.
Be sure to bring your residence card with you and have them write your new address on the back.
Children's Transfer of School, Kindergarten, or Nursery School
Follow the necessary procedures for your new school, kindergarten, or nursery school. Contact each one, and they will tell you what you need to do.
Change of Driver's License Address
If you have a Japanese driver's license, please go to the nearest police station and report the change of address. At that time, bring the residence card with the changed address.
Conclusion
The key to completing your move is to prepare early. Set your moving date early so that you can move smoothly.
The basics points of the moving house are the same for foreigners and Japanese.
People in a big city often experience moving, so it's also a good idea to talk about moving with a colleague at work or a friend.