In Japan, each month has another name called the Japanese style month name, and June is called Minazuki. And, did you know that there is a Japanese sweet with the same name as Minazuki?
In this article, we will explain the Minazuki, which is Japanese sweets to eat in June.
What Kind of Sweets is Minazuki?
Minazuki originated in Kyoto and is a Japanese confectionery featuring a double-layered triangular appearance.
The base part is Uiro, and the one above is sweet red bean paste. You can enjoy chewy Uiro and sweet red bean paste at the same time.
In late June, many Japanese confectionery stores in Kyoto sell Minazuki. This is because it has a deep relationship with the traditional event, called "Nagoshi no Harae."
What is "Nagoshi no Harae"?
The Nagoshi no Harae is a traditional event held at various shrines on June 30 every year. The purpose is to purify the uncleanness of the first six months of the year and to pray for health for the remaining six months.
People eat Minazuki mainly in Kyoto on the day of the event. The triangular Uiro represents ice, and the red beans are believed to have the effect of dispelling evil.
The reason why stores in Kyoto sell Minazuki around June 30th is that we eat it on the day of Nagoshi no Harae.
For your information, many people do not know Minazuki in areas other than Kyoto, and so you may hardly find it in other areas. When you find it, we recommend to try it.
Shops Selling Minazuki
As mentioned earlier, Minazuki is sold mainly in Kyoto in June. You can find it in supermarkets, but we also recommend to buy a full-fledged one at a Japanese confectionery store.
Below is an example of shops that sell Minazuki.
Eirakuya (永楽屋)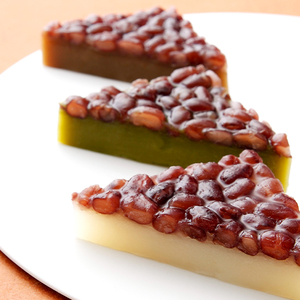 At Eirakuya, which has multiple stores in Kyoto city, you can get standard Minazuki and Minazuki using Kyoto Uji matcha.
Eirakuya doesn't ship Minazuki through online orders, so if you live in the Kyoto area, let's go buy it. (Their store in Tokyo does not have Minazuki.)
Kyo-mizuha (京みずは)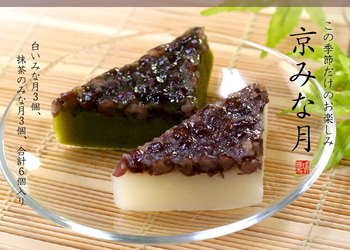 Kyo-mizuha, a Japanese sweets store in Kyoto, sells Minazuki, which has a chewy and sticky texture. You can enjoy normal white Minazuki and green Matcha Minazuki there.
If you order it online, it will arrive by frozen mail, so let it thaw for about 3 hours before eating.
Kanshundo (甘春堂)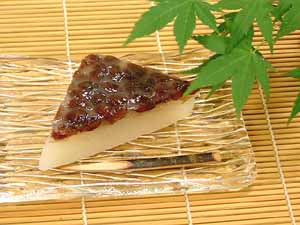 Kanshundo is a long-established Japanese confectionery store founded in 1865. They have not only white Minazuki but also matcha and brown sugar Minazuki. Some Minazuki arrives only on June 30th, so that you can eat it on the day of the Nagoshi no Harae.
You can enjoy a refreshing taste by cooling it just before eating.
Sometimes Sold at Department Stores
Although the period of availability of Minazuki is short, it also may be available at department stores in the Kanto area during the period.
For example, the following Sentaro has shops in various department stores such as Takashimaya, and you can purchase Minazuki at that shop.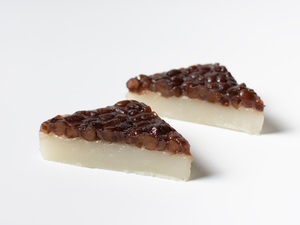 These department stores may announce the sale of Minazuki when the Nagoshi no Harae is near. If you find one, why don't you go buy it?
Recipe of Minazuki
Buying at a Japanese confectionery store is not the only way to enjoy Minazuki. If you have the ingredients and tools, you can make Minazuki by yourself.
There is a video explaining how to make Minazuki in English for foreigners.

ingredients / using 15㎝(5.9inches)×15cm square mold
110g flour
17g jyoyoko (you can use rice powder)
130g jyohakuto(you can use granulated sugar)
110g kanokomame(azuki in syrup)
300-320ml warm water

Source: Japanese Traditional Lucky Rice Cake"Minazuki"【Kyoto Wagashi】 – YouTube
In the case of the above recipe, you can make it if you have a steamer and a mold.
There is also a page introducing another recipe for Minazuki. Let's challenge with the one you like.
If you make it yourself, you can enjoy Minazuki without having to go shopping. If you have tools and ingredients, give it a try.
Conclusion
During the period of Nagoshi no Harae in June, the Japanese sweets Minazuki are eaten mainly in Kyoto. It is loved as an event meal to purify half a year's uncleanness and pray for the health of the other half year.
It's a Japanese sweet that can't be seen anywhere other than during the time of the Nagoshi no Harae, especially in places other than Kyoto, but why not try it on June 30th of this year, hoping for health.