When completing Japanese immigration procedures and submitting the required documents at the immigration procedure counter at the airport, you will receive a Residence Card. Although you have a Residence Card, the back does not have your address because you are not registered. That means you are still not legal enough to stay in Japan for the long term at all.
The same as Japanese people, the Resident Registration (住民登録) is also required for the foreigner who plans to stay for working or studying in Japan in the long term.
Remember that, this is one of the first things you need to do when starting to live in Japan.
Who needs to register the residency?
As mentioned above, Resident Registration is required for the foreigner who plans to stay in Japan for the medium to long term. For example, those who have a working visa and plan to stay in Japan for more than three months.
Conversely, the people who stay in a short-term (less than three months) or traveller (without a residence card) don't need any Resident Registration.
The listed above people are required to visit the local municipal office to complete the resident registration within 14 days of move-in.
In case it exceeds 14 days and you haven't completed yet the resident registration without justifiable reason, a fine may be imposed according to the law. So finding a house and completing resident registration is your priority upon landing Japan.
Resident registration procedure
Once you have started living, you will need to register as a resident in your local municipal office.
Required documents
In general, the necessary items (required documents) are listed below. And the procedure will be smoother if you check on the municipal website in advance.
Certificates of relationship, such as birth certificates for children and marriage certificates for spouses are needed if family members register together. In many cases, a Japanese translation is also required, so we recommend that you should prepare it before entering Japan.
Also, if a Japanese doing the process on behalf of you, a letter of attorney and agent's identification documents are required.
Place of registration
Basically, you have to visit the local municipal office for the procedure of moving in (転入).
If you live in 市 (SHI, City) for example 府中 市 Fuchu-shi (Fuchu City, Tokyo), then go to 市役所 Shiyakusho (City Hall) which is the administrative centre of the city.

If you live in 区 (KU, District) for example 千代田 区 Chiyoda-ku (Tokyo) then go to 区役所 Kuyakusho (Ward Office) which is the administrative centre of the district.
But depending on the area, there are branch office or agency where also handling this procedure. To save time and effort, don't forget to check the information in advance on the municipal office's website. 
For example, Resident registration procedures are available at the branch office of Setagaya Ward in Tokyo.
Reference: Information on civic affairs counter and branch office | Setagaya-Ku homepage (Japanese)
Fill out the application form
When you go to the municipal office, you will need to fill out the application form (Notification on Change of Address) and submit it to the counter along with the required documents. The format of the application varies by municipality, and English versions may be available in some areas. For example, Minato Ward in Tokyo.
At Minato Ward's website, you can download both the Japanese and English version of the Notification in Change of Address from the following page.
Reference: Minato City Official Homepage / Resident Notification (Japanese)
The following are examples of Japanese commonly used in application documents.
| Japanese (English) | Points to note when writing |
| --- | --- |
| 氏名(Full name) | Match the description on your Residence Card |
| 異動事由(Reason of Moving in/out) | If you come to Japan for a long-term of the first time, please write「転入」(Moving in) or 「国外転入」(moving from a foreign country) |
| 続柄(Relationship to head of household) | Write「本人」the person yourself (if you are living alone at a rental place),「世帯主」head of household,「妻」wife or「子」child, etc. |
| 国保(National Health Insurance) | Check whether you have social insurance (社会保険) at your place of work in advance |
Basically, not only the "Name" but also all the required information in the application form have to match the description on the residence card.
Besides, don't forget to check with your employer in advance whether you need to join National Health Insurance.
According to the law, when you have resided in Japan for 90 days or more, it is mandatory to register your address and join the National Health Insurance. If you are going to Japan for work, you usually get Social Insurance at the company. In that case, National Health Insurance is not necessary.
Required time for the procedure
The procedure can be completed in about 30 minutes, but it may take 1 to 2 hours or more depending on the location and congestion. Make sure you have plenty of time.
Also, if there are other procedures that you would like to register at the municipal office (such as getting a copy of the Certificate Of Residence or National Health Insurance), we recommend that you register at the same time so you don't need to visit the municipal office again.
Procedure is completed
When the procedure is completed, your current address will be written on the back of your residence card.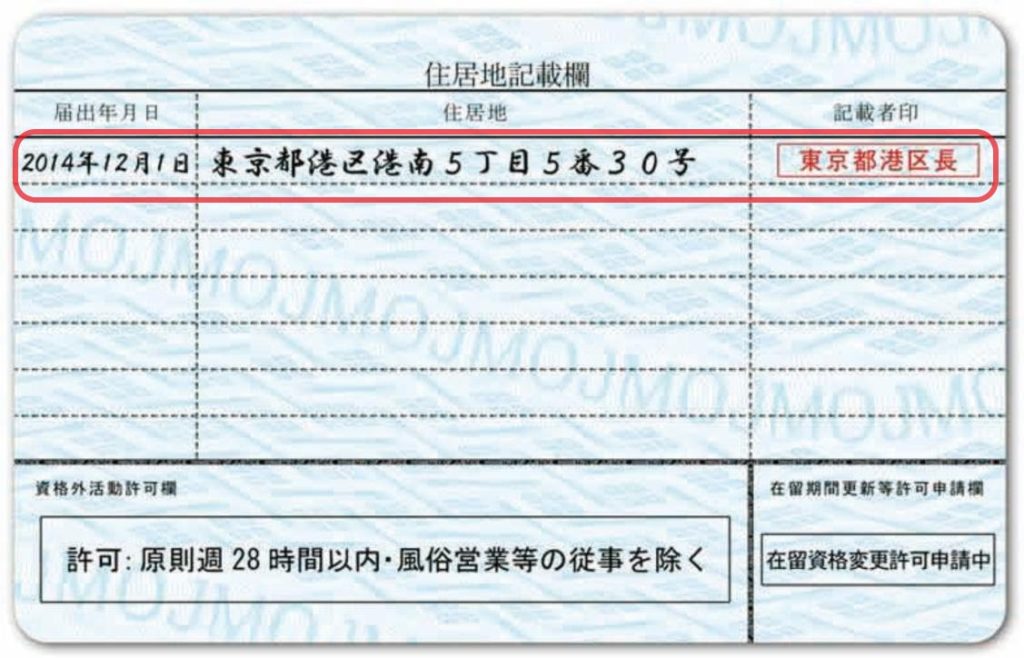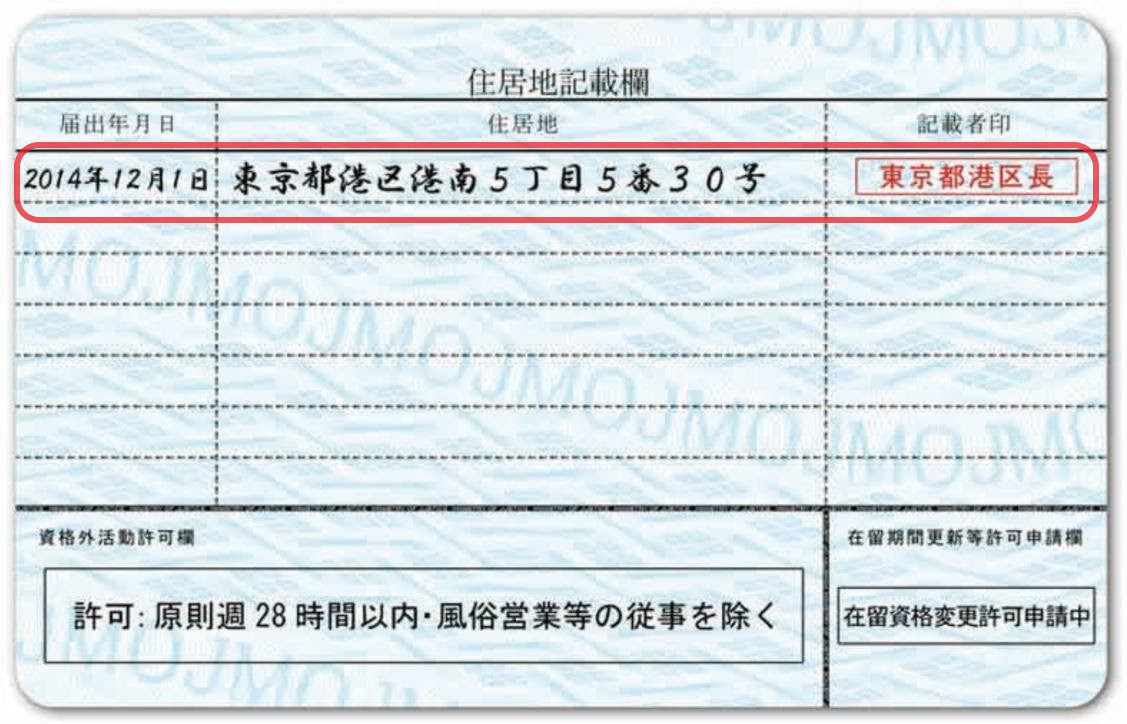 As a result, it can be used as an ID card with address description and ID photo in many situations where identification documents are required. Later, when changing the place of residence, the new address will be added below (the old address will be crossed out) and the new card will be renewed when there is no vacant.
Procedures of move-in・move-out are required when changing the address in Japan
If you moving inside Japan after registering as a resident, you will need to perform procedures of move-out and move-in again.
Proceed the "Notification of move-out" at the municipality in charge of your current address and "Notification of move-in" at your new municipality. This will also update the address on the back of your residence card.
Apply for a re-entry permit if necessary when going to oversea.
If you are going to move out of Japan, you will only need to notify the move-out (転出) at the municipal office. However, if you plan to return to Japan, getting a re-entry permit (再入国許可) is highly recommended.
The procedure for re-entry is done by the Regional Immigration Bureau, which has jurisdiction over your area.
Reference: Ministry of Justice: Re-entry Permit Application (Japanese)
In addition, if the period from when you move out to when you return is within one year and within the period of stay, you can even simplify the procedure by using the "A special re-entry permit" system (with small conditions).
Just tick on the small box printed on the ED card (Embarkation and Disembarkation) that you receive at the airport to indicate that you want to re-enter. Then the procedure is completed without going to the Immigration Bureau.
Reference: The re-entry permit system will be changed (English)
Reference: New format of the Disembarkation Card for Foreign Nationals (English)
Please keep in mind that always has some required procedures when you change your address.
Conclusion
Resident registration is a mandatory procedure when you stay in Japan for the long term. However, in some areas, foreign language support ​​is often unavailable. So if you are not good at or don't understand Japanese, you may find it very difficult.
The easiest way is finding someone who understands Japanese to go through the procedure with you. But if it is hard, you can consider to make a power of attorney and ask a Japanese agent for help.