Hi everyone. Following the series of articles about electricity, water and gas in Japan, today JP Smart Club will share in detail about the issue of gas registration for the apartment.
In Japan, gas is not only used for cooking but also for heating water for baths. Winter in Japan is very cold, so if you do not have hot water to bathe, it will be a "torment". Therefore, gas is an indispensable utility in daily life, unless you live in a house using electricity to provide heat for all living needs without gas.
Let's learn about gas and how to sign a contract with a gas company in Japan!
Type of Gas system in Japan
Toshi Gas and LP Gas
There are two types of gas in Japan:
Toshi Gas (都市ガス)
LP Gas/Propane Gas(プロパンガス)
Toshi gas (or City gas) is supplied to your home through underground pipes by exclusive regional gas companies, while LP gas is supplied to residences via several tanks, usually secured to an external wall by private companies or gas stores.
Which gas type you use depends on the type of apartment you live in. So, before deciding to sign an apartment contract, please confirm with the broker or landlord about the type of gas that the apartment will use.
By the way, many people in Tokyo and Osaka use Toshi gas because it is the most popular using gas service.
Beware of gas types when buying gas appliances
If you use gas stoves for cooking, you should pay attention to the type of product that matches the type of gas used in your home.
As mentioned above, in Japan there are 2 different types of gas, Toshi gas and LP gas. However, Toshi gas is divided into two types: 12A and 13A.
You will not be able to use your purchased gas appliance without choosing the right type. So please be careful, confirm carefully before making payment.
Select gas company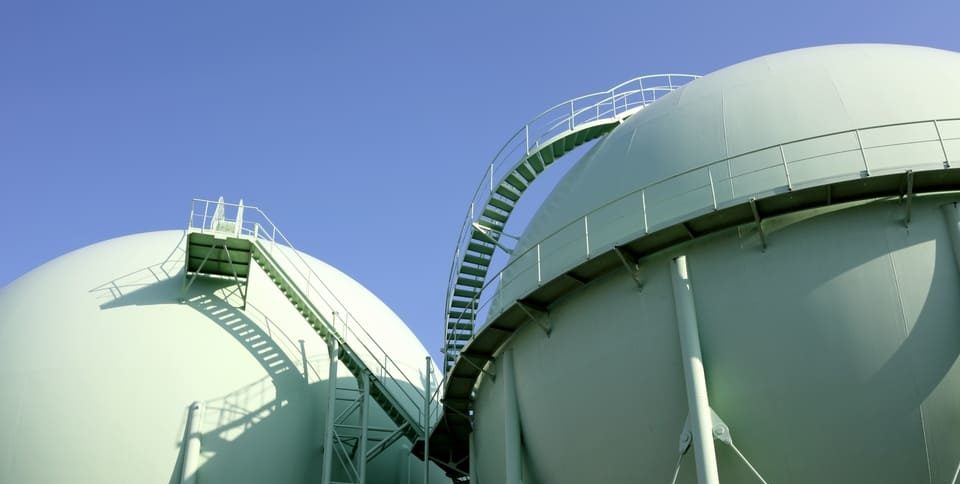 In order to start using gas, you need to choose a gas company to sign a contract first.
In the past, most consumers were forced to use gas from an exclusive regional gas company. However, since April 2017, not only electricity but also gas has been freely commercialized (ガス自由化), so consumers can freely choose the company to sign a gas contract that they find cheap and reasonable.
However, if you live in the Kanto area, Tokyo Gas is the safest option. Because Tokyo Gas supports customer care over the phone in multiple languages such as English, Chinese, Korean, Spanish and Portuguese by making three-way reciprocal calls. It is convenient to be consulted in a language you understand when having trouble, right?
Below is the contact information of Tokyo Gas Customer Care Center.
Other than Tokyo Gas in the Kanto region, the Osaka Gas of the Kansai region is also a gas company that service is friendly to foreigners. Because they provide an online application form in English, you can fill out the application yourself without the hassle of reading Japanese.
As for the LP gas supplier (often called propane gas), there are private companies such as Shin Nippon Gas, Kansai Enearc, Iwatani Kinki, and so on. Below is the information on how to use LP Gas of Shin Nippon Gas.
Regardless of which gas company you decide on, don't forget to pre-confirm with the real estate company or check the gas supplier's information on the lease. In addition, you should also consult your acquaintance or landlord to know more about promotions and benefits when choosing a gas company.
Steps of making contract
After choosing a gas company to sign a contract, let's move on to the procedure of contract.
Things to prepare
Below is what you need for a gas contract:
Address of property using gas
Contact phone number
List of gas equipment that you already have and plan to use (such as stoves and fan heaters)
For gas appliances, list all the equipment you have with your service provider so they can confirm product compatibility. If you haven't had any gas appliance at home at the time of making a contract, all you need to do is prepare your personal information such as your address and contact number.
Contract procedure
It is common to contact the gas company to start using gas by telephone or online application form to make an appointment.
You should contact the gas company in advance about a week before the date of moving to the new place because it will be difficult to make an appropriate appointment during the moving season.
The contract form can be completed by this contact information. However, you will be required to be present at your home when they come to open and connect the gas.
Witness the process of opening gas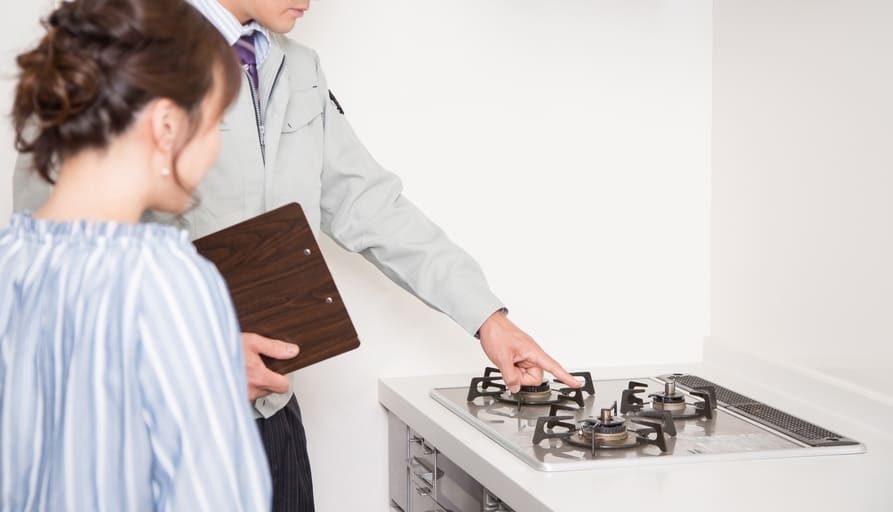 Before starting to use gas, it is necessary to open the property in the presence of a contractor or surrogate. At the appointed date and time, the gas company staff will come to the residence for gas opening as well as ignition check.
The gas appliance you have will be checked if it is compatible with the type of provided gas. So please prepare well before the contract date. Of course, if your apartment already has gas appliances, you don't need to buy it separately.
The gas company staff basically only speaks Japanese. Therefore, if you are not confident in your ability to communicate in Japanese, it is better to have someone who can understand Japanese help you.
By the way, when planning to register with Tokyo Gas, you can make an appointment according to the following time frames:
Things do not always happen exactly what you want. So, make sure to be present/to have a surrogate at your home during the time you choose.
Gas alarm device
In addition to installing gas systems, it is common for gas company staff to recommend a gas leak alarm. This device is called Keihouki (警報器) and will emit a notification sound when your gas appliance shows signs of leaking.
The gas company leases this equipment for a contract that costs several hundred yen per month. But if you want to live with peace of mind, you should apply it at the same time of signing contract.
How to calculate gas rates
In most cases, the gas bill is calculated as follows:
「Basic Charge + Meter Rate Charge(Unit Rate × Amount Of Gas Used)」

The gas monthly bill is calculated by adding monthly basic charge to the meter rate calculated according to the amount of gas used.
Unit Rate (yen/m³) is not a constant as it will vary slightly depending on the supplier's raw material cost adjustment system. The raw material cost adjustment system is a system that adjusts quantities according to raw material prices and changes in exchange rates.
It is difficult to give an accurate figure with such cost fluctuations. But for those who live alone, the average monthly gas cost will be about 3,000 yen.
About payment methods
Gas payment methods vary depending on each company. But in the case of Tokyo Gas, there are three payment methods as follows: Taking Your Gas Bill To A Designated Window, Account Transfer and Credit Card Payments.
Of these, Account Transfer and Credit Card Payments require a separate application and not have instructions in foreign languages. So when registering, we recommend that you ask someone who can understand Japanese for assistance.
Below are instructions for payment in English of Tokyo Gas.
If you do not make payment by Account Transfer and Credit Card Payments method, the gas company will send a bill to you, wherein you will take it to a designated window to make a payment.
As well as the electricity bill, you can pay your gas bill by bringing it to a convenience store. The payment due is also written on the payment slip. The gas company will charge interest on the deferred payment bill, so please make sure to complete the payment as soon as possible.
Understanding your gas bill
Here is an example of Tokyo Gas's bill. The bill comes attached to the "Notice of Gas Use (meter reading slip)" in a single slip. You can learn about the meaning of each slip by tapping on the following:
Conclusion
The policy of gas liberalization in Japan has been in place for nearly 3 years, so you will be quite confused in the selection process for suppliers while gas companies are running competitive promotions.
Thus, to simplify the procedure, you should choose large gas companies in each area such as Tokyo Gas or Osaka gas, which have English support.
JP Smart Club would like to end the article here. Hopefully, with the sharing above, you can choose the appropriate gas company and settle in your new place as soon as possible.