When you come to Japan, you may bring your charger from your country. However, if the charger's plug and voltage are not compatible with them in Japan, unfortunately, it cannot be used.
If you learn about Japanese voltage and power plugs in advance, you can reduce the risk of such troubles. Please use this page as a reference.
Voltage and Frequency Adopted in Japan
The proper use of any appliance depends on the voltage and frequency prevailing in the area.
Voltage
The voltage of Japan is 100V. While many countries use a voltage of 220V to 240V, few countries use 100V (such as Japan and North Korea,) so it can be said to be rare worldwide.
| Voltage | Countries and regions |
| --- | --- |
| 100V | Japan, North Korea |
| 110V | Taiwan, Mexico, Jamaica, etc. |
| 120V | USA, Canada, Colombia, etc. |
| 220V | China, Vietnam, Thailand, Chile, France, Italy, Egypt, etc. |
| 230V | Singapore, Germany, Austria, Pakistan, etc. |
| 240V | India, Australia, United Kingdom, Kenya, UAE, etc. |
* Multiple voltages are used in some regions.
If you bring any electric appliances or charging adapters from your home country, make sure that they are compatible with the Japanese voltage of 100V. A transformer is required if not supported.
Frequency
There are mainly two types of frequencies for electric appliances, which are 50Hz and 60Hz, but there are regions in Japan that use 50Hz and regions that use 60Hz.
The line connecting the Itoigawa River in Niigata Prefecture and the Fujikawa River in Shizuoka Prefecture is the boundary, and the frequency is 50Hz on the east side and 60Hz on the west side.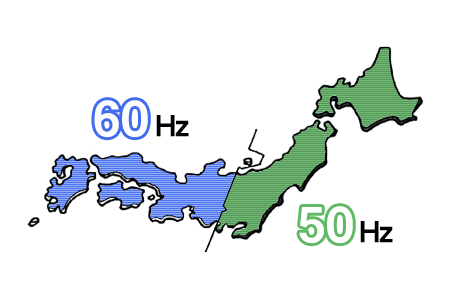 Please keep in mind that electric appliances with built-in timers may not operate properly at frequencies that are not compatible.
| When the frequency is different | Electric appliances |
| --- | --- |
| Works without problems | TV, stove, iron, electric rice cooker, etc. |
| Works but ability changes | Vacuum cleaner, fan, refrigerator, mixer, etc. |
| Do not work | Washing machine, electric clock, microwave oven, etc. |
Reference:TEPCO official website (Japanese)
なお、「50/60Hz」と記載されている電化製品はどちらの周波数でも使えます。詳しくは購入時に、家電量販店の店員に相談してみてください。
周波数の違いに影響を受ける電化製品を日本に持ち込む場合は、住む予定の地域の周波数もチェックしておきたいですね。
How to Check Voltage and Frequency
Check the voltage and frequency by looking at the surface of the appliance or the instruction manual.
The image below is a charger for a Japanese mobile router. You can see that the corresponding power and frequency are listed. It supports voltages from 100V to 240V and frequencies of both 50Hz and 60Hz.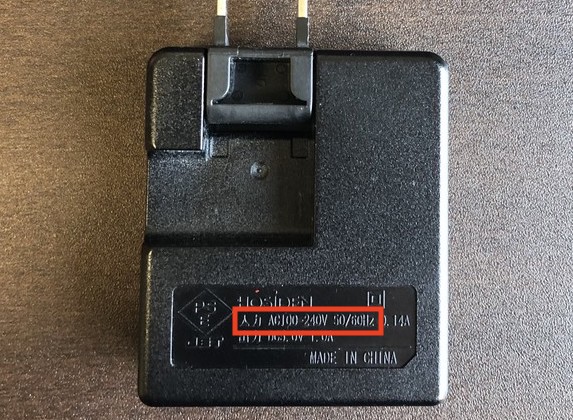 The iPhone charging adapter also supports voltages of 100V to 240V and frequencies of 50 / 60Hz. The image below is a bit hard to see, but it says "Input: 100-240V ~ 50 / 60Hz". It means that it can be used in Japan without problems as long as the type of the plug to be described later matches.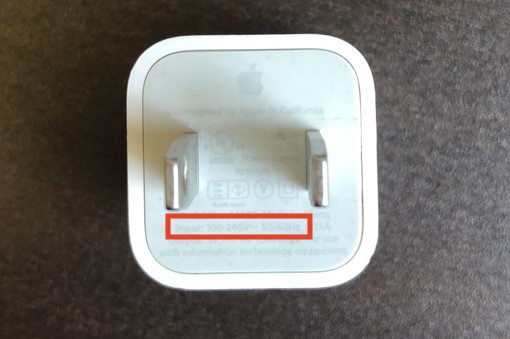 If you are only bringing products from overseas that support Japanese voltage and frequency, you may not need to prepare a transformer in advance.
Type of Japanese Power Plug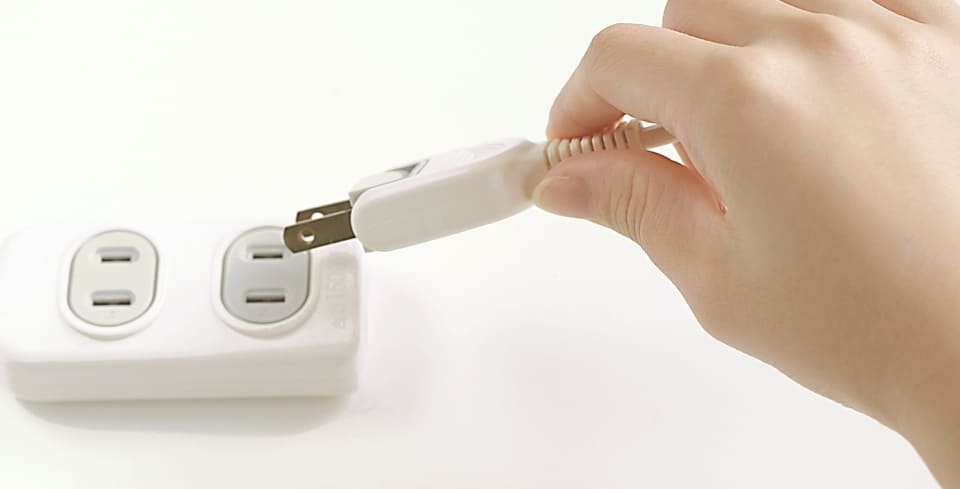 There are various types of power plugs in the world, but the one used in Japan is the type A, which features two elongated plugs.
Type A is used not only in Japan but also in the following areas.
If you come to Japan from these areas, you may not need a conversion plug.
However, if you are worried about whether it can be used reliably, it is safe to have a conversion plug. If you want to get it after arrival in Japan, you may want to check out electronics stores such as BicCamera and Yamada Denki, and stores such as Tokyu Hands where travel supplies are located.
Conclusion
As long as it is compatible with 100V voltage and has a type A plug, it can be used in Japan without any problems. If you bring electric appliances from your home country, check the voltage and plug shape, and prepare a transformer or conversion plug if necessary.
Also, some appliances are affected by the difference in frequency, so such products must be compatible with 50Hz in the eastern region and 60Hz in the western region.
We hope this information may help you when bringing electric appliances to Japan.