As the rainy season approaches, many Japanese people feel that it is time for hydrangea. The brightly colored hydrangeas such as pink and blue are the main characters of this season.
For sightseeing in the summer season, why not visit the famous hydrangea spots?
Hydrangea Season and Sightseeing
The hydrangea blooms from May to July every year. Especially during the rainy season in June, many people visit sightseeing spots to enjoy the glamorous hydrangeas that get wet in the rain.
At this time of year, some hydrangea spots all over the country hold festivals, so it is good to go there.
In most cases, you can find information such as festival dates on the website of each tourist spot. If you have a place that you want to visit, please check it.
Hydrangea Color and Soil Acidity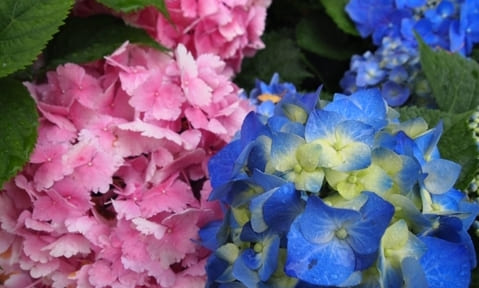 Hydrangea is known for its pink and blue colors. Depending on the tourist spot, a particular color may be famous.
The acidity of the soil causes this color difference, which is pink when alkaline and blue when acidic.
There are also white hydrangeas, but this one is white regardless of where it blooms because it is a variety that is not affected by soil acidity.
These differences in color are also the key to enjoying hydrangea, so be sure to look for the spot with hydrangeas in your desired color when sightseeing.
Sightseeing Spots Famous for Hydrangea
Here are some of the famous spots for hydrangea. If you are interested, why not drop by?
Hakusan Shrine
Hakusan Shrine, located in Bunkyo-ku, Tokyo, is also known as the hydrangea shrine in the local area, and it is a spot where about 3,000 hydrangea flowers bloom in June.
It is also a point that the "Bunkyo Hydrangea Festival" will be held in the area from the shrine grounds to the adjacent Hakusan Park at the timing of hydrangea blooms. You can enjoy various events there, such as concerts and guided tours.
When you take a guided tour, it's best to wear comfortable shoes.
Meigetsuin Temple
Meigetsuin is a temple located in Kamakura, Kanagawa prefecture, and is famous as a hydrangea temple. In June, the approach is filled with hydrangea with a blue color called "Meigetsuin Blue" and attracts visitors.
Also, irises are in full bloom at the season, so we recommend to see them as well.
For your information, Meigetsuin costs about 500 yen for admission. You will need to pay an additional 500 yen for viewing the irises.
Gomadoyama Hydrangea Garden
At the hydrangea garden spread on the top of Mt. Gomado in Niigata, you can see about 30,000 hydrangeas blooming.
It takes about 40 minutes to climb the promenade from the trailhead, so you can enjoy hydrangeas while hiking. Make sure you have enough time and energy to visit.
Besides, the hydrangea festival is held there at the time of blooming, and you can find stalls open around the trailhead.
Mimurotoji Temple
Mimurotoji Temple in Kyoto opens "Hydrangea Garden" in June and attracts many tourists. It is one of the most famous places in the Kansai area where you can see about 50 varieties of hydrangea.
Of particular note is the "heart-shaped" hydrangea. If you find it, it is said to make love come true, so let's look for it when visiting Mimurotoji Temple.
During the opening period of Hydrangea Garden, an admission fee is 800 yen for adults and 400 yen for children (normally 500 yen for adults and 300 yen for children).
Mikaeri-no-Taki Falls
Saga Prefecture's Mikaeri-no-Taki Falls, which is one of Japan's 100 best waterfalls, is a tourist spot where you can enjoy both 40,000 hydrangeas and beautiful waterfalls at the same time.
The hydrangea festival is held there during the hydrangea season, and you can find the waterfall lit up at night. It may be good to enjoy the forest bath while walking along the promenade.
Sweets Inspired by Hydrangea
For those who find it difficult to go directly to hydrangea sightseeing spots, it is a good idea to enjoy hydrangea at sweets.
You can't eat the hydrangea itself, but there are many beautiful sweets that imitate the hydrangea.
For example, here is Konpeito, which is inspired by hydrangea. This sweet with a cute color seems to please small children.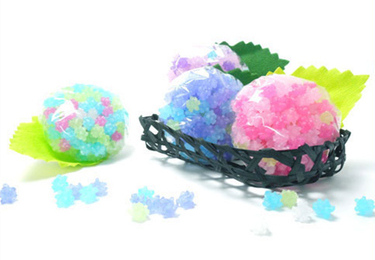 Although the sale is suspended in 2020, the Japanese sweets shop below also offers hydrangea-inspired sweets using agar. The cool look is perfect for summer.
You can also make sweets by yourself from the motif of hydrangea if you prepare the ingredients.
Feel the season of Japanese hydrangea while enjoying these sweets.
Conclusion
It's a pain to go out during the rainy season in June, but it might be fun to visit the hydrangeas that shine in the rain.
Some hydrangea spots are Japanese traditional shrines and temples, so it's a perfect sightseeing plan.
Also, if you are interested in the sweets inspired by hydrangea, please give it a try!