Fireworks are the most popular summer tradition. We often see them around the beginning of the year overseas, but in Japan, we mostly see them in the summer. In the summer, there are many fireworks festivals held all over Japan, and the venue is crowded with people wearing yukata.
Fireworks have a long history, and people began to enjoy fireworks in the 18th century. It is rare that a traditional event is still popular with many people on a national scale.
Japan's fireworks, which combine sound, color, and advanced technology, are world-class. Wouldn't foreigners living in Japan also want to see them?
In this article, we will give you a thorough explanation of the fireworks festivals in Japan, including recommended fireworks festivals, preparations for the day, and things you should be aware of.
Overview of Japanese Fireworks Festival
First, let's check the history of Japanese fireworks and what kind of culture the fireworks festival is.
History of Japanese Fireworks
Fireworks are said to have been born in China with the development of gunpowder, and the fireworks for viewing were said to have started in Florence in Italy in the 14th century.
In Japan, the warring lord Masamune Date was the first person to see fireworks in 1589, then Ieyasu Tokugawa saw it. Later, a fireworks ball in its present shape came up, and from there, it became skyrockets.
The Ryogoku Fireworks (now the Sumida River Fireworks Festival) that started in 1733 was the oldest fireworks festival in Japan, and it took root as a summer tradition from there.
Differences between Overseas and Japanese Fireworks
Overseas, cylindrical fireworks made by pressing one type of gunpowder are the mainstream, but the difference is that Japanese fireworks are spherical and change in color. When pyrotechnicians pack a spherical powder into a firework ball, they carefully calculate the direction in which the powder will fly out.
To become a fireworks artist, you need relating qualifications that require high-level skill and training. You also need to know various types of fireworks, such as 割物(warimono), ポカ物(pokamono), 千輪(senrin), and 型物(katamono).
Such artistic fireworks in Japan have been well received in the world.
Fireworks Festival in Japan
The fireworks festival is useful not only for enjoying fireworks but also for developing a town as a tourist attraction.
The largest fireworks ball in the world used to be the 4 feet ball launched at the Katakai Festival in Niigata Prefecture. It is also registered with Guinness and blooms 700 meters in diameter in the night sky. The price is 2,500,000 yen, which is surprising.
Many fireworks festivals launch 20,000 – 30,000 fireworks. In addition to the considerable costs, there are venue equipment costs, security costs, and advertising costs. These costs are either raised by the local government or financed by many donations and sponsorship.
In summer, many people begin to plan which fireworks festival to go to, and tens of thousands of people gather at the popular fireworks festival. Many people buy tickets in advance and relax and watch fireworks at paid seats.
Once you've secured a place, you can enjoy watching the fireworks while you eat and drink and enjoy the summer nights.
Recommended Fireworks Festivals
You may wonder which fireworks festival to go, as there are too many options.
So, here are the five fireworks festivals that you should try.
Miyajima Water Fireworks Festival (Hatsukaichi City, Hiroshima)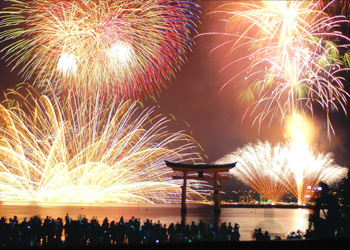 Miyajima is a world heritage site and one of the three most scenic spots in Japan, along with Matsushima and Amanohashidate. It is a famous island visited by foreigners from all over the world.
The charm of this fireworks festival held on Miyajima is the two main icons, Otorii of Itsukushima Shrine and fireworks.
There are some great places to see fireworks, such as along the coast, around the Taira no Kiyomori statue, and around the pier, but we recommend "多宝塔(tahōtō)" that you can appreciate it from the hill.
As congestion is inevitable, take early action and secure a perfect place. It will be an unforgettable experience, even for foreigners.
Akagawa Fireworks Festival (Tsuruoka City, Yamagata)
2017年8月19日
赤川花火大会#花火 #写真撮ってる人と繫がりたい #写真好きな人と繫がりたい #photography #coregraphy #Fireworks pic.twitter.com/zmDiCT7XBO

— 626 (@helio_graphie) August 18, 2020
The Akagawa Fireworks Festival held at the Akagawa Riverbed is said to be "the most moving in Japan." In 2014, it was among the top 10 in 100 selection of Japanese fireworks. The festival takes place on Saturday in August every year, and it launches about 12,000 fireworks.
The number of shots is not very high, but the feature lies in the program. It is divided into five parts: opening, dramatic Hanabi, civic fireworks, the light of hope, and ending. In between, there are also competitions.
The fireworks and their dramatic designs that match the themes by each fireworks shops are impressive, and the venues created from the standpoint of the audience are also popular.
Lake Suwa Fireworks Festival (Suwa City, Nagano)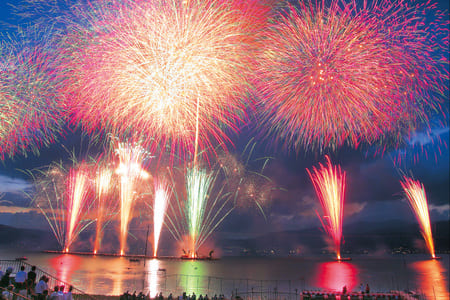 Lake Suwa Fireworks Festival launches about 40,000 fireworks, and you can enjoy watching them from anywhere around the lake.
Held on August 15th every year, this venue has a crowd of about 500,000 people.
Here are some hidden spots for seeing the fireworks.
"Hyakkeien," where you can see the big Niagara fireworks from the near area of the launch site
"Hotel Beniya," which opens the rooftop for viewing (pay)
"Tateishi Park," where you can overlook the fireworks and the town
"Takabocchi Plateau," where you can avoid crowds.
Sumida River Fireworks Festival (Sumida Ward, Tokyo)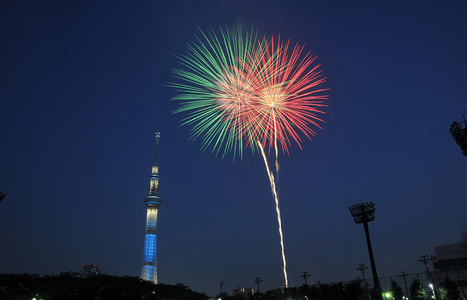 The biggest fireworks festival in Tokyo is the Sumida River Fireworks Festival, which is held on Saturday in late July. The sight of about 20,000 fireworks rising above the Sumida River continues the history that began as Ryogoku fireworks in 1733.
There are two venues, attracting 950,000 people each year. The performance with the illuminated Sky Tree is also a must-see.
Speaking of Sky Tree, there is also a plan where you can watch fireworks from the observatory. There is no doubt that you will be impressed by the fantastic night view of Tokyo and the fireworks.
It's close to Asakusa, so it's a great plan to take a walk through Asakusa during the day and watch the fireworks at night.
The Nagaoka Festival Grand Fireworks Show (Nagaoka City, Niigata)
Finally, let's introduce one of the three major fireworks in Japan, the Nagaoka Festival Grand Fireworks Show. It has a history of over 100 years and is a wonderful fireworks display that even maniacs who watched many fireworks are very satisfied.
It's so popular that more than one million people visit the venue to watch about 20,000 fireworks, including a regular three feet ball that reaches about 650 meters when it blooms and a "phoenix" that continues for about 5 minutes. There is a temporary train on the day.
It is also characteristic that there are an official app and promotional videos.
Preparation for Going to Fireworks Festivals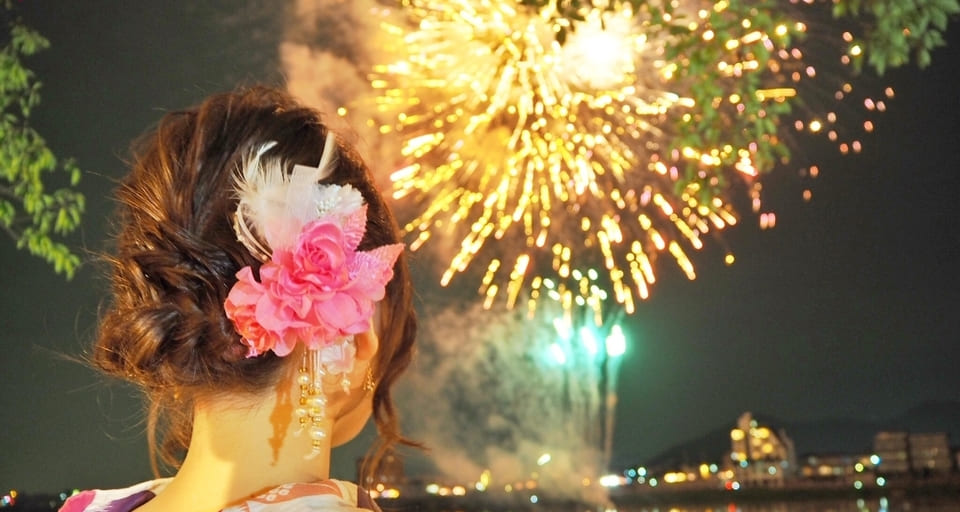 Here, we will introduce how to prepare to enjoy watching fireworks smoothly.
Preparations and Precautions
Fireworks festival is an event that anyone can easily enjoy. However, it is crowded every year.
Unless you reserve a paid seat, if you want to sit and watch on the riverside on the day, you need to secure a place early. As with spring cherry blossom viewing, the difficulty of securing a place will increase further if you are a group.
Therefore, it is a good idea to check paid seats and hidden spots in advance for the fireworks festival you want to visit.
Also, around the nearest station and the venue is very crowded. When meeting with friends, it is good to decide where to meet up and when to return.
In a crowded place, there may be pickpockets, so be careful with your valuables and not to let small children get lost.
There are many stalls along the way to the venue, where you can buy Japanese street food, and drinks. This is also a fireworks tradition, so it would be fun to bring some money and try some. When you are returning home, please do not leave garbages on-site and handle it responsibly.
Useful Items at a Fireworks Festivals
Watching fireworks while sitting on the leisure sheet is a special time. However, in the humid summer of Japan, and at fireworks festivals that are often held along rivers, you may suffer from insect bites by mosquitoes.
Therefore, we recommend that you bring insect repellent spray and antipruritic medicine. Other items such as wet tissues, sweat wipes, paper fans, and folding fans are also great for hot nights.
Let's Go to the Fireworks Festivals Wearing Yukata
There is one suggestion when going to the fireworks display. How about wearing a yukata and go out?
Yukata, which can be worn more easily than kimono, is a unique summer outfit. Spending Japanese summer in a yukata is a wonderful experience of Japanese culture.
You can find Yukata at UNIQLO, and there are many second hands. Don't worry about the way of dressing, even if you wear it in a little wrong way, or even if you put on sandals instead of geta.
You can easily search online for a yukata rental and dressing service that is available only in summer. By all means, please enjoy watching fireworks in your yukata and make fun memories.
Conclusion
Fireworks and fireworks festivals are what Japanese people love in summer. You can enjoy this wonderful cultural event wearing yukata.
The famous fireworks festival is a big event that represents the season. By all means, why not try out the fireworks festivals this summer?