Summer is the lotus season. If you visit the famous lotus place during this period, you will be able to see the beautiful pink flowers floating in the water.
In this article, we will introduce what kind of plants the lotus is and where we can enjoy lotus flowers.
What Kind of Plant is a Lotus?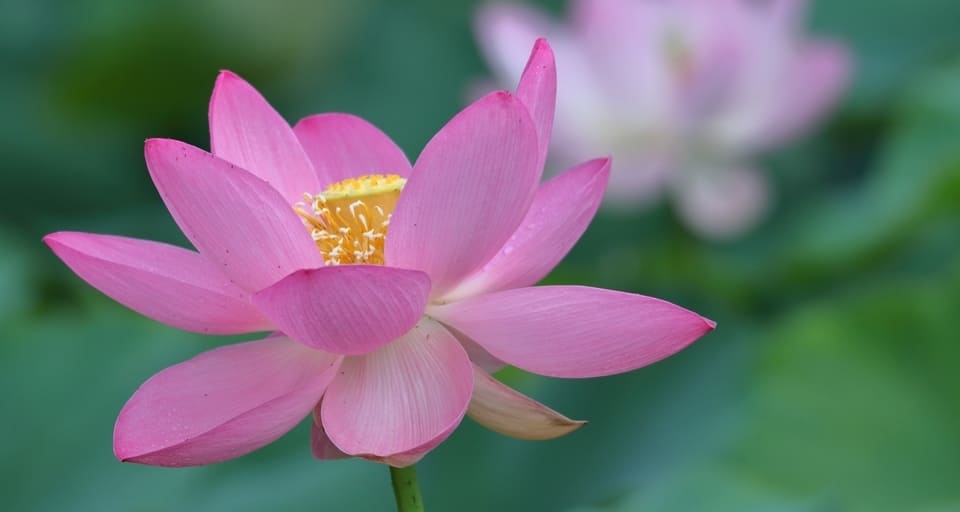 Lotus is an aquatic plant that blooms in white and pink flowers found in ponds. The flowers bloom in summer, and the best time to see them is from July to August.
A plant that is often confused is water lily, but this is another plant. Lotus flowers bloom above water level, and water lilies bloom on the water level. Knowing this enables you to identify them.
It blooms only in the morning, and even in the best season, most of it closes its flower in the afternoon. When visiting lotus sightseeing spots, be sure to visit there between 7 a.m. and 10 a.m.
Flower Language of Lotus
Lotus has the following flower language. It is good to think of these words when looking at the beautiful blooming lotus.
Pure heart
Sacred
Away love
Eloquence
Composure
Renkon(Lotus Root)
The lotus root(Renkon) may be more familiar to our lives than the lotus itself. We can find it sold in supermarkets and often use it for simmered dishes.
As you know, the lotus root has multiple holes. It means that we can "look ahead" through it, and so it is said to be auspicious. Therefore, we often use it for New Year's Osechi dishes. Besides, as it has many seeds, we sometimes wish the prosperity of descendants by eating it.
Even if you don't usually eat lotus root, it may be a good idea to try it when you want to be lucky.
Relationship between Buddhism and Lotus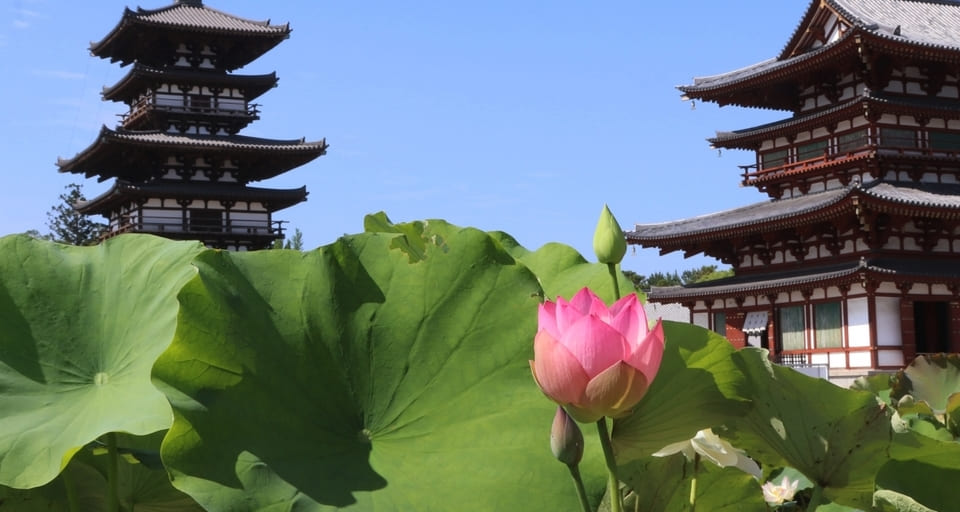 Lotus flowers are closely related to Buddhism, and people believe that the appearance of beautiful flowers that grow from muddy water represents the mercy of the Buddha.
The place where the Buddha sits is the lotus base. This alone shows that lotus is a flower that has great meaning in Buddhism.
Besides, there is a four-letter idiom used in Japan called "Ichiren Takusho(一蓮托生)." This word has the meaning of "acting together or having the same fate, regardless of good and bad." However, it originally came from the idea of Buddhism that a person who does good deed entrusts himself to the same lotus in paradise after death.
Wouldn't it be interesting to know that lotus is treated as sacred in Buddhism?
Tourist Spots Where You Can Enjoy Lotus Flowers
Here are some spots where you can enjoy lotus flowers in Japan. If you are interested, please visit.
Shinobazu Pond(Tokyo)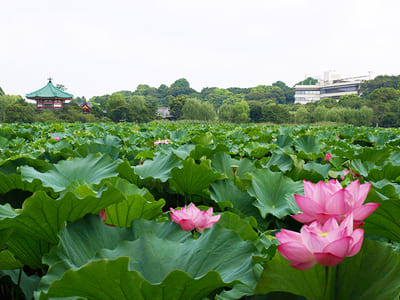 Shinobazu Pond in Ueno Park of Tokyo is known as one of the best lotus spots in Tokyo. There is a dedicated observation zone to enjoy lots of lotus species, so it's a perfect place to enjoy lotus.
Museums and zoos are also nearby, and the Ueno area itself is a great tourist spot, so if you are visiting Japan, we recommend that you visit it at least once.
Hanahasu Park(Fukui)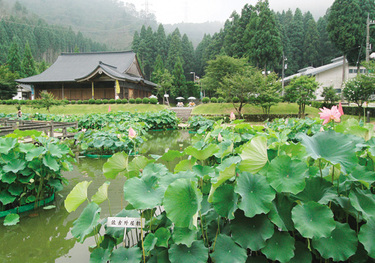 At Hanahasu park in Fukui prefecture, you can see flower lotus came from countries all over the world. There are more than 130 kinds, and visitors will be satisfied with it.
From July to August, the lotus festival also takes place, and you can enjoy events such as Hasu dyeing experience. If you want to enjoy lotus, please visit there during this period.
Mizunomori Water Botanical Garden(Shiga)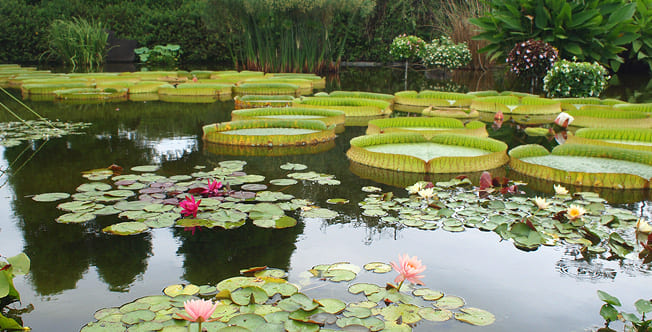 At Mizunomori Water Botanical Garden in Shiga Prefecture, you can enjoy various aquatic plants, including lotus. There is also a lotus festival, so it's a good place to stop by while sightseeing.
In the lotus season, it is open from 7 a.m. according to the flowering time. Please visit there and enjoy the lotus and water lilies.
Mimurotoji Temple(Kyoto)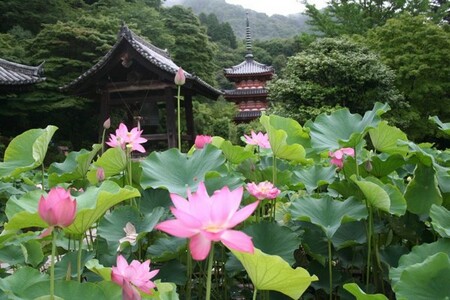 Mimuroto Temple in Kyoto is famous for hydrangeas, but lotus is also famous. At the lotus garden in front of the main hall, you can enjoy a variety of 100 kinds of lotus.
Besides, during the lotus season, an event to enjoy Hasu-zake(lotus liquor) takes place. At this party, sake is poured into the lotus leaf, and you can drink it through the stem.
Karako Lotus Gardens(Nagasaki)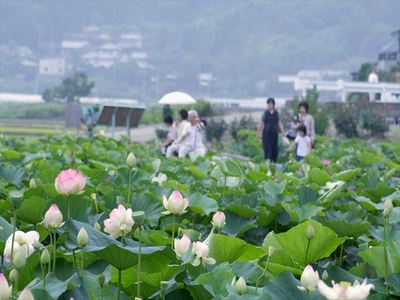 It is a spot where you can enjoy lotus and water lilies in Nagasaki Prefecture. It is located in Karako Wetland Park and is home to many valuable plants and insects.
At the beginning of July, when the lotus blooms, a lotus festival takes place, and you can enjoy local special product and stage events.
Tosenji Temple(Nagano)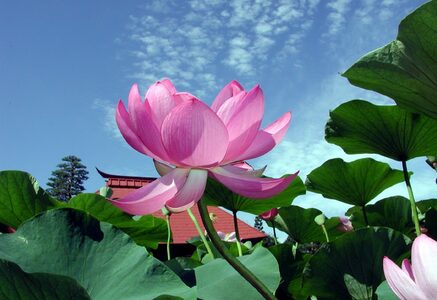 At Tosenji Temple in Nagano Prefecture, which is also known as a lotus temple, you can see about 100,000 lotus plants. Especially, Oga lotus(大賀蓮), which was discovered in the strata 2000 years ago, is a must-see.
Like the other spots, it also holds a lotus festival, where special products such as handmade soba are demonstrated and sold.
Conclusion
The lotus, an aquatic plant that produces beautiful flowers in ponds, is in full bloom from around July. The flowering time is mainly in the morning, so be careful about the time of day when you go sightseeing to the lotus spot.
Don't miss this flower, which is not only beautiful but also has a profound religious significance.