There are many Japanese foods in Japan, but among them, "Kushikatsu" introduced this time is one of the highly recommended foods. It is also the comfort food of Osaka, and there are many Kushikatsu restaurants in the city, ranging from stand-up ones to long-established ones.
This is a dish that you can feel blissful when you eat it with beer, so we recommend it, especially for adults.
What Kind of Food is Kushikatsu?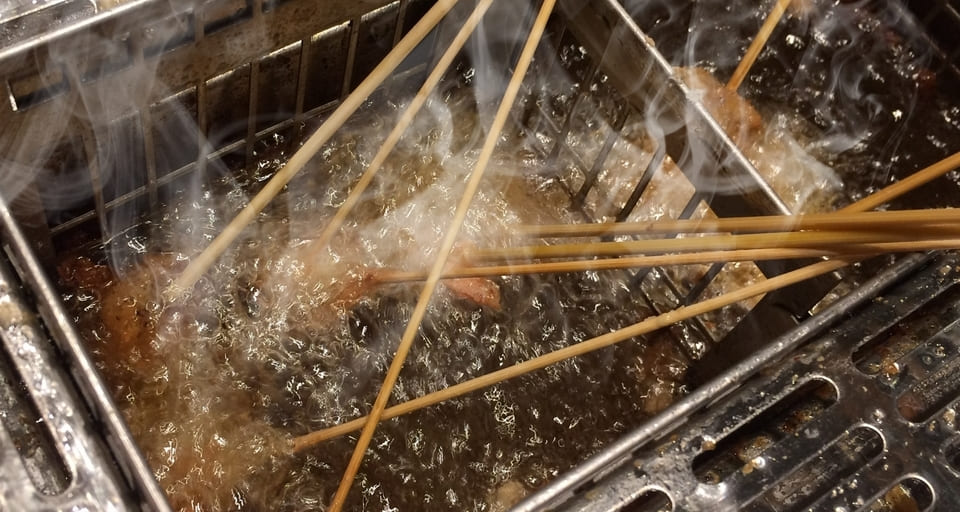 Kushikatsu is a dish in which meat and vegetables are stabbed on skewers and deep-fried in oil. In Japan, we call a dish in which bread crumbs are added to the ingredients and fried as "~Katsu."
It is a Japanese food that is easy to eat even if you are not familiar with chopsticks because you can eat it with the skewer.
Some restaurants offer rare Kushikatsu, which uses fruits, so try it when you find it.
By the way, it is said that the timing to raise the Kushikatsu from oil is critical. At Kushikatsu restaurants, we can eat freshly fried Kushikatsu.
Many people love to eat freshly fried Kushikatsu with beer, so why not try?
Rules to Eat Kushikatsu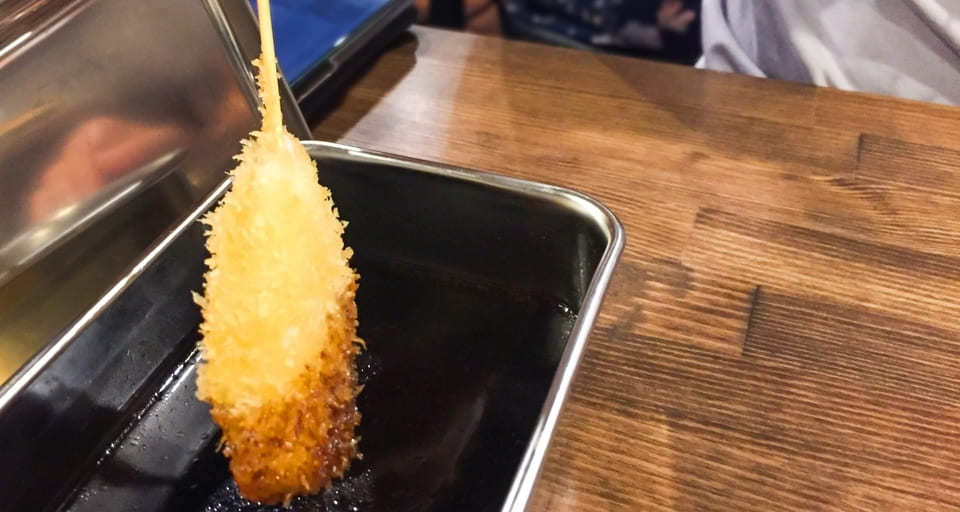 You can hold the skewer part with your hands, so you can dip Kushikatsu to the sauce without using chopsticks.
Depending on the restaurant, the sauce is often shared with other customers. Especially in Osaka, you can often find shared sauces on the table.
Kushikatsu restaurants generally have a rule that you cannot dip the Kushikatsu twice to the sauce. It's a bit unsanitary to dip foods that have been put in a mouth once to the shared sauce.
However, in the case of large Kushikatsu, you may run out of sauce on it. In that case, you can scoop the sauce with the free cabbage and hang it on the Kushikatsu. Of course, you cannot use the cabbage that you bit.
Nowadays, some restaurants have a sauce dispenser to sprinkle the sauce on Kushikatsu. It's more convenient, so why not come and visit them!
Famous Kushikatsu Restaurants
For those who want to eat Kushikatsu, we will introduce famous Kushikatsu restaurants.
Kushikatsu Daruma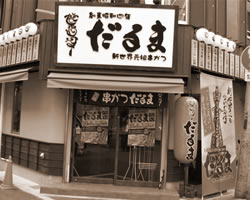 "Kushikatsu Daruma" is a restaurant that invented Osaka Kushikatsu in 1929. It has become a famous restaurant that has many stores now, but it was originally born in an area called Shinsekai in Osaka.
This shop is said to be the origin of beef Kushikatsu, and later the word "Kushikatsu" became a word which indicates that fried skewer of meat and vegetables other than beef skewer. It is a restaurant where you can experience the taste of the sauce since the time of its establishment and the old-fashioned atmosphere.
Kushikatsu here is lightly-fried and its batter is thin but served in an exquisite fried condition that maximizes the goodness of the ingredients.
In the area called Shinsekai, Naniwa Ward in Osaka, where the Kushikatsu Daruma was born, there are many other Kushikatsu restaurants. It is also a tourist spot where you can eat around many stores.
You can find Kushikatsu restaurants that are owned by individuals, as well as chain shops, so please try to find your favorite.
Kushikatsu Tanaka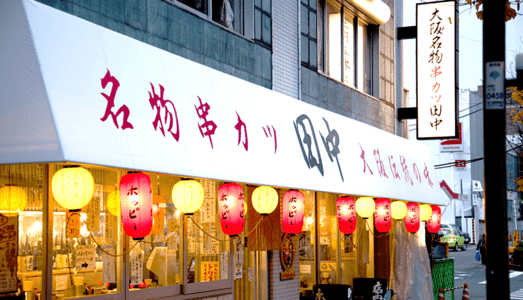 Another famous restaurant is "Kushikatsu Tanaka." It is a Kushikatsu restaurant that was founded in 2002 and is mainly developed in the Kanto area.
The charm of this shop is not limited to Kushikatsu. It offers "Niku-sui" that can only be eaten in Osaka and comfort foods that are often eaten in the Kansai area as an izakaya menu.
It's a restaurant where not only adults but also children can enjoy a variety of menus, so we recommend it for families.
How to Cook Kushikatsu at Home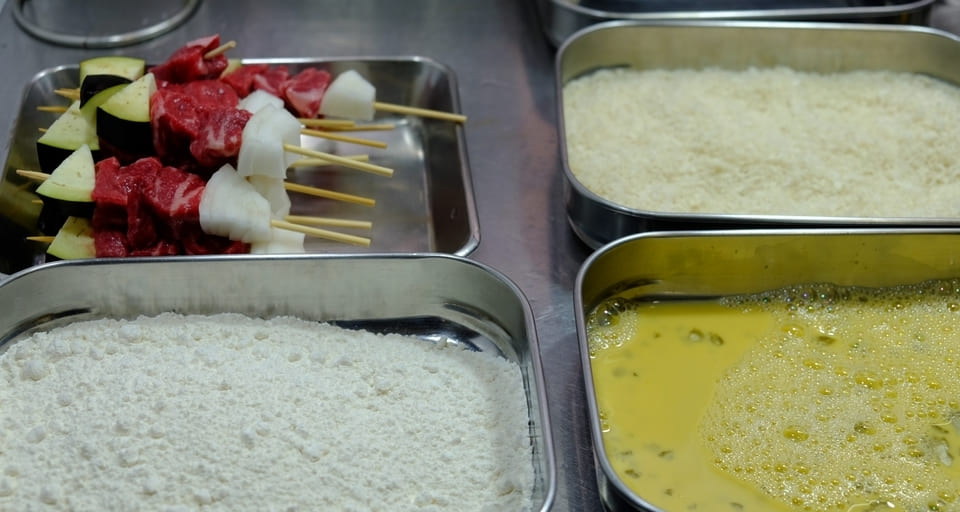 Kushikatsu is a relatively easy dish to enjoy at home. With fresh ingredients and oil, families can enjoy Kushikatsu easily.
All you need to prepare are bamboo skewers, the food you want to eat, bread crumbs, batter (a mixture of wheat flour, eggs, and water), and frying oil. Stab the ingredients on the tip of the skewer, dip the ingredients in order from the batter and bread crumbs, and deep-fry it in 180°C high oil to finish.
The point is to put the batter and bread crumbs as thin as possible and not to deep-fry too much. It's OK not to fry it twice. Let's prepare a lot of ingredients and fry them. Even children who don't like vegetables may eat a lot.
There are various recipes such as sweets (sweet bun, ice cream, chocolate, etc.), fruits, and cheese on the internet, so it might be a good idea to try them.
You can eat many kinds of ingredients as Kushikatsu, so why not give it a try?
Conclusion
The theme this time was Kushikatsu, which is famous as comfort food in Osaka. There are some restaurants in Osaka and Hyogo where you can fry your own Kushikatsu by yourself. It can be said that it is an exquisite Japanese food that makes you eat and drink a lot.
Adults, please try it with cold beer and sake.