Okinawa is well known as one of Japan's leading resorts because of its warm and clear blue sea all year round. In 2019, more than 10 million tourists visited from home and abroad each year, recording the highest number of tourists ever.
In this article, we will introduce the attractions of Okinawa that attract many people, as well as information on sightseeing spots and gourmet foods, so please take this as a reference when traveling.
What Kind of Place is Okinawa?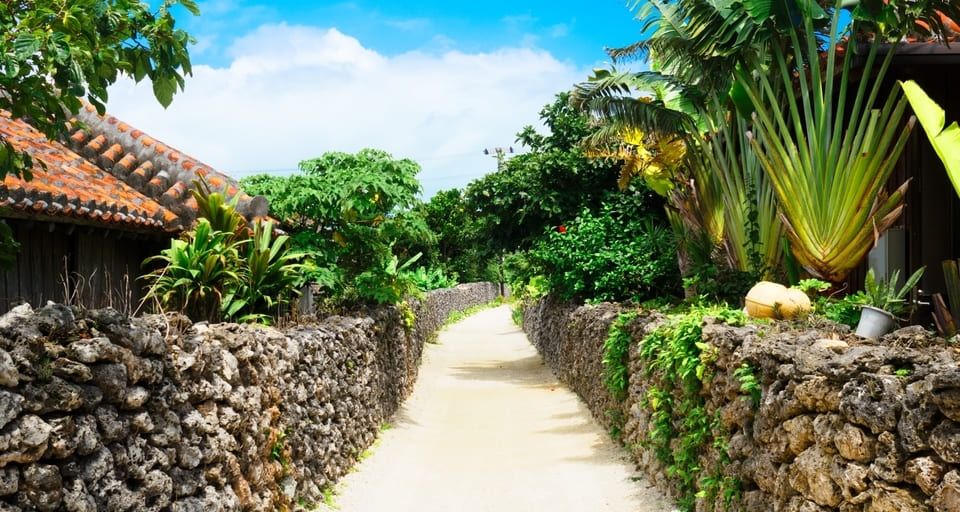 Okinawa Prefecture, at the westernmost tip of Japan, is made up of small islands such as Miyako Island and Ishigaki Island in addition to the main island of Okinawa. It is characterized by a warm climate and a rich natural environment, unlike Honshu. You can also feel the unique culture of Okinawa from various aspects, such as music, dialect, food, and crafts.
Okinawa was once an independent nation called the Ryukyu Kingdom. During 450 years from 1429, the Kingdom of Ryukyu was developing as a royal nation, having exchanges with Japan, China, and Southeast Asian countries.
The Ryukyu Kingdom became a part of Japan in 1879, and Okinawa Prefecture was born. During World War II, fierce battles were to take place there. Also, from 1945 to 1972, after the war, it was under the rule of the United States, so there are still many places where you can feel the influence of American culture.
Okinawa is a destination for people who love nature, who are interested in local entertainment and music, who want to learn about history, and who want to enjoy gourmet food.
Famous Sightseeing Spots in Okinawa
First of all, we will introduce the tourist spots that you should visit if you go to Okinawa.
Shurijo Castle (首里城)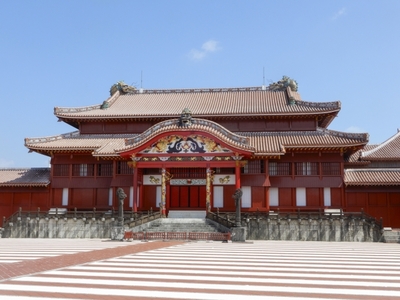 Shurijo Castle, the symbol of the Ryukyu Kingdom, was once the residence of the king and played an important role as the center of politics, diplomacy, and culture. It suffered three fires during the Ryukyu Kingdom era and was destroyed by the Battle of Okinawa in 1945, but restoration work was carried out and it was opened as Shurijo Castle Park in 1992. Although the main palace suffered a fire in 2019, it is now open to the public again.
Shurijo Castle, which has the architectural styles of Japan and China, shines in red and welcomes tourists with a majestic appearance.
Shurijo Castle (首里城)
Admission: 400 yen for adults, 300 yen for high school students, 160 yen for elementary and junior high school students, free for children under 6 years old
Opening hours: 8:00 a.m. ~ (closing times vary by season)
URL: https://oki-park.jp/shurijo/en/
Kouri Bridge (古宇利大橋)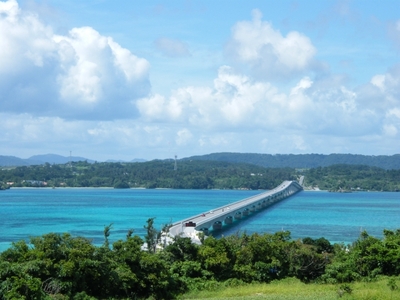 When you come to Okinawa, you may want to enjoy the emerald green sea. You can enjoy a superb view from Kouri Bridge. The approximately 2km bridge connecting Kouri Island and Yagaji Island is a popular drive course, and you can feel as if you are driving on the sea.
There is also a beach at the entrance of Kouri Island, so we recommend it for those who want to enjoy swimming.
Kouri Bridge (古宇利大橋)
Fee: Free
Address: Kouri, Nakijin-son, Kunigami-gun
Okinawa Churaumi Aquarium (沖縄美ら海水族館)
The ocean of Okinawa has a mysterious world where various creatures live. This aquarium was created to let you experience the splendor of the sea. The highlights are the powerful whale sharks and manta rays, but it also features large-scale coral reef breeding exhibits and rare creatures living in the deep sea.
There are also places outside the building where you can see dolphins, sea turtles, and manatees free of charge.
Okinawa Churaumi Aquarium (沖縄美ら海水族館)
Admission: 1,880 yen for adults, 1,250 yen for high school students, 620 yen for elementary and junior high school students, free of charge for children under 6 years old (entry after 4:00 p.m. is subject to change of admission fee)
Opening hours: 8:30 a.m. to 6:30 p.m. (October to February) and 8:30 a.m. to 8 p.m. (March to September)
URL: https://churaumi.okinawa/en/
Himeyuri Monument (ひめゆりの塔) / Himeyuri Peace Museum (ひめゆり平和祈念資料館)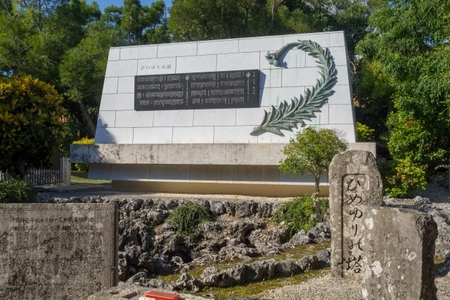 In 1946, the year after the end of the war, the Himeyuri Monument was built as a memorial. This is for the requiem of the Himeyuri Student Corps (students and teachers of the Okinawa Normal Female School and the Okinawa First Girls' High School) who were sacrificed during World War II.
The Himeyuri Peace Museum, built next to the monument in 1989, is a place where you can learn about the tragedy that happened to them and the tragedy of war, and learn the value of peace.
Himeyuri Peace Museum (ひめゆり平和祈念資料館)
Admission: 310 yen for adults, 210 yen for high school students, 110 yen for elementary and junior high school students
Opening hours: 9:00 a.m. – 5:25 p.m.
URL: http://www.himeyuri.or.jp/EN/info.html
Ryukyu Glass Village (琉球ガラス村)
Ryukyu Glass Village is a glass workshop in Itoman City, and we highly recommend it for those who are motivated to create. A variety of workshops are available, such as blowing glass experience, coloring Shisa, and making accessories of glass material. You can make only-one souvenir in the world there.
Kokusaidori (国際通り)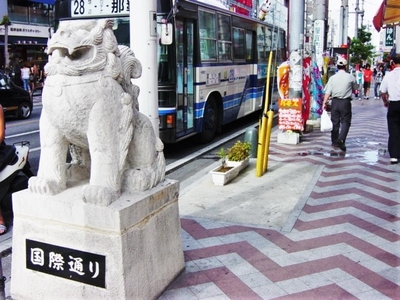 Kokusaidori is a large street in Naha City, with about 600 stores lining up. You can find many souvenirs, including sweets that are famous for Okinawa, such as Chinsuko and red sweet potato tart.
It's a great place to pick up souvenirs, but there are plenty of restaurants, so it's also a great place to enjoy your meal.
Famous Food in Okinawa
Next, we will introduce delicious foods and drinks unique to Okinawa.
Okinawa Soba (沖縄そば) / Soki Soba (ソーキそば)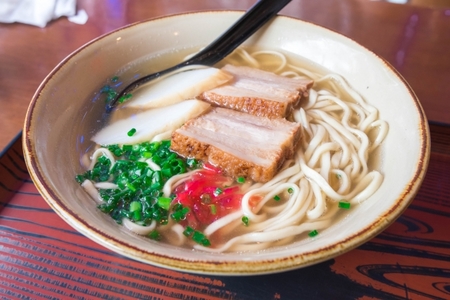 Originally it was a royal dish, but now it is an Okinawan noodle dish loved by all locals from adults to children. It is called "Okinawa soba," but wheat flour is used as the raw material for noodles instead of buckwheat flour.
The soup made from bonito flakes and pork bones is refreshing and easy to eat, even in hot weather. In addition to pork loin and kamaboko, ginger may be inside, which is a good accent. When the ribs with bones called "Soki" in the local language are used, it is called "Soki soba."
"OKINAWA SOBA EIBUN" offers a variety of menus, from the standard to the variety.
OKINAWA SOBA EIBUN
Price: from 750 yen for Okinawa soba
Opening hours: 11:00 a.m. – 5:00 p.m. (closed on Wednesdays)
URL: https://sobaeibun.okinawa/
Awamori (泡盛)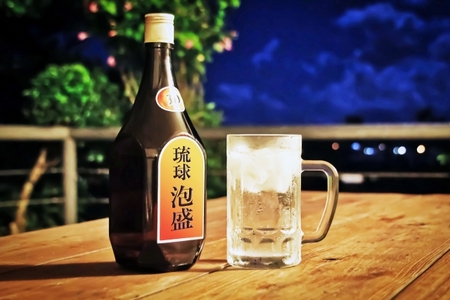 Awamori is a distilled liquor made from rice, which has been loved since the Ryukyu Kingdom era. You can drink it with rock ices, water, or carbonated water, or you can also make a cocktail with it.
There are a wide variety of flavors and aromas depending on the brand, and the taste of fresh sake and old sake is different. You can buy it as a souvenir, but if you like liquor, we recommend that you try it at a local shop.
There is a variety of Awamori at "Mion(海音)" on Kokusaidori, and it holds live performances of island songs. You can enjoy the night unique to Okinawa, enjoying Awamori while listening to the songs.
Agu Pork (あぐー豚)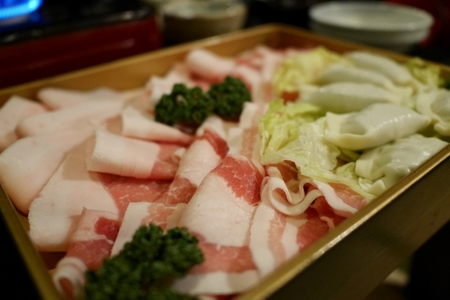 Pork has been a favorite foodstuff since the days of the Ryukyu Kingdom, and it is still an integral part of Okinawa's food culture. Agu Pork is Okinawan brand pork, which has a root of pig brought from China about 600 years ago. It is characterized by its tender meat, low cholesterol, and high collagen content.
At "Shokusai Shubo Matsumoto(食彩酒房 まつもと)," you can enjoy this brand of pork as shabu-shabu.
Shokusai Shubo Matsumoto(食彩酒房 まつもと)
Price: Agu shabu-shabu set 5,500 yen
Opening hours: 5:30 p.m. – 10:30 p.m.
Address: Orchid Matsuyama 1F, 1-8-5 Matsuyama, Naha City
Sata Andagi (サーターアンダギー)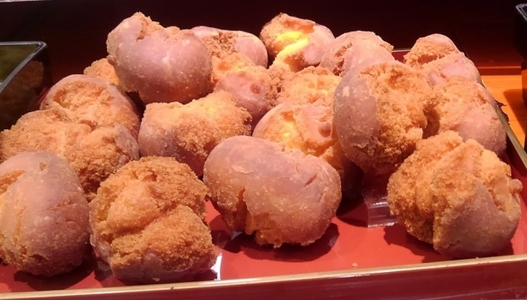 One of the most famous Okinawan snacks is Sata Andagi. They are like small doughnuts, and "Sata" means sugar and "Andagi" means fried in oil.
It is a simple snack made with simple ingredients, but the crunchy outside and fluffy inside, and the subtle sweetness that spreads in your mouth will make you addicted to it. It is often made at households in Okinawa, but you should try the freshly fried ones sold in the city as well.
The long-established "Matsubaraya Confectionery(松原屋製菓)" sells a variety of flavors of Sata Andagi.
Matsubaraya Confectionery (松原屋製菓)
Price: from 60 yen for Sata Andagi
Opening hours: 9:00 a.m. – 9:00 p.m.
Address: 2-9-9 Matsuo, Naha City
Conclusion
In Okinawa, you can experience the unique ecosystem and culture that is different from Honshu, and it is a perfect place to experience the extraordinary. You will be able to spend a relaxing time by touching the bright and warm personalities of the local people.
Many people become obsessed with visiting Okinawa once, but we're sure you can understand why.