Japan has four seasons: spring, summer, autumn, and winter. You may be surprised at the four seasons that change rapidly during the year.
In Japan, colorful flowers bloom according to the season. In this article, we will introduce representative flowers that color the four seasons of Japan.
We will also provide information on how to enjoy Japanese flowers. You can find information on flower sightseeing spots and festivals, so please refer to it.
Spring Flower: Cherry Blossom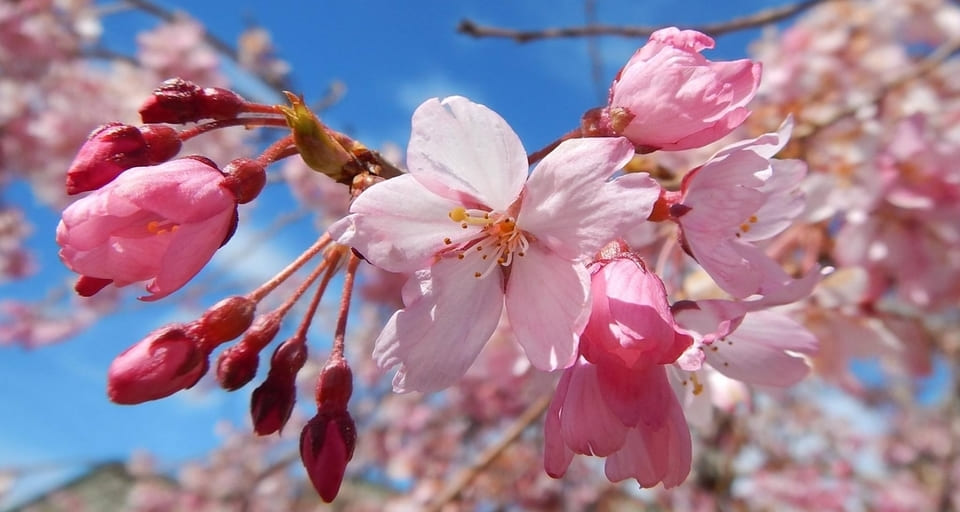 The flower that represents spring in Japan is the cherry blossom. It is a flower that can be said to be a symbol of Japan and is also used as a symbol mark by Japanese national institutions such as the police.
The cherry blossoms usually bloom from early March to early April. During this period, there are events such as the entrance ceremony of schools or companies. So Japanese people often think the cherry blossom is a flower which colors meeting and parting.
The Japanese culture of "hanami" is also characteristic. When the cherry blossoms bloom, people hold a banquet under the cherry blossoms to meet with friends or colleagues to enjoy alcohol and food.
As for varieties, various types of cherry blossoms have been cultivated for ornamental use since ancient times. The representative one is the Yoshino cherry tree, and other famous cherry blossoms are weeping cherry trees, Kawazu cherry blossoms, and wild cherry trees.
Sightseeing Spot of Cherry Blossoms
There are many sightseeing spots in Japan where you can enjoy many cherry blossoms. The most popular spot among them is Ueno Park.
Ueno Park is located in Taito Ward, Tokyo. It is close to Asakusa, a popular tourist spot, and the sightseeing course where you can travel with Ueno and Asakusa is popular.
The cherry blossoms in Ueno Park become one third to half bloom around the beginning of March, and you can enjoy them until early April. The entrance fee is free, and not only office workers and residents nearby, but also many people from afar come to see the cherry blossoms. It is a typical cherry blossom tourist spot that is said to be visited by 4 million people every year.
A Festival Where You Can Enjoy Cherry Blossoms
The Ueno Sakura Festival is held every year at Ueno Park. There are markets where you can enjoy Japanese culture such as antiques, flowers, festivals. And cherry blossoms will be lit up at night.
The period of the festival is from the end of March to the beginning of April. We recommend you visit there.
Summer Flower: Sunflower
The flower that represents summer in Japan is the sunflower.
The sunflower's origin is North America, and it is a flower that is popular overseas. For a while in Japan, it was talked about in the American Major League Baseball players eating sunflower seeds during the match. It is mainly cultivated in Japan for ornamental purposes.
Some Japanese people have memories of raising sunflowers in elementary school. Japanese elementary schools have a curriculum for growing them as part of their science lessons. Sunflower can be cultivated in most places, so it is suitable for school cultivation too.
Sightseeing Spot of Sunflowers
A feature of sunflowers is that they are tall and have large flowers. One of the sightseeing spots where you can fully enjoy its features is the "ひまわりの里(Sunflower Village)" in Hokuryu Town, Hokkaido.
About 1.5 million sunflowers are cultivated here. It is a tourist spot that makes use of the charm of Hokkaido, which boasts the largest area in Japan.
The sunflower blooms from mid-July to mid-August, and the best time to see it is mid-August.
At this time of year, Japan is in the "Obon" season to welcome the spirits of ancestors. For this reason, many companies and government offices take vacations, which is the best sightseeing timing in Japan. It is also the time when many tourists visit "Sunflower Village."
A Festival Where You Can Enjoy Sunflowers
At the Sunflower Village, the "Sunflower Festival" is held from mid-July to mid-August according to the flowering season.
We hold events that can be enjoyed by children and the elderly, such as fairs, Bon festival dances, concerts with singers, and hero shows.
The recommended event is the World Sunflower Festival. There are various kinds of sunflowers from around the world cultivated by local junior high school students, so be sure to check them out.
Autumn Flower: Fragrant Olive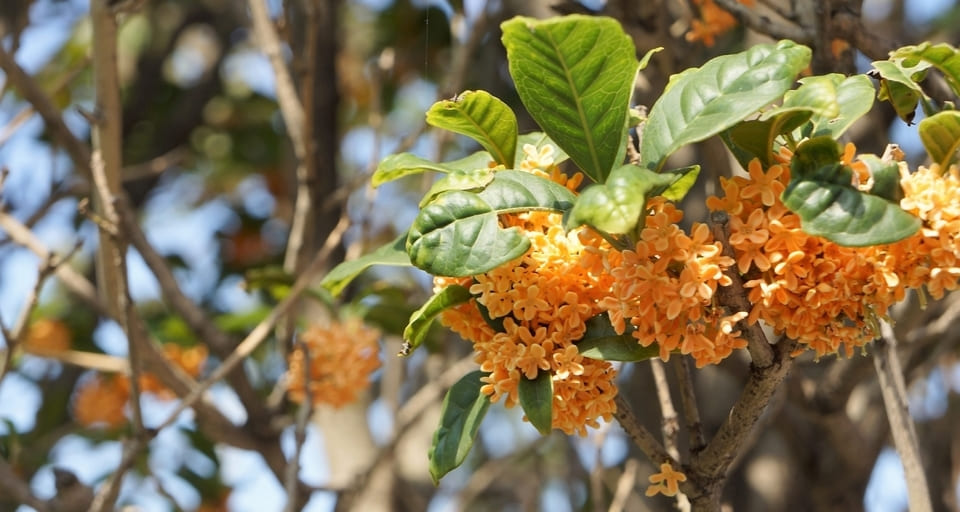 The representative flower of autumn in Japan is fragrant olive(osmanthus).
It is said that the fragrant olive originated in China and was introduced to Japan during the Edo period. In Japan, we often see it being cultivated in parks and the garden of someone's home for ornamental purposes. It grows up to about 10 m in large trees and blooms orange flowers from mid-September to late October every year.
The sweet, fragrant, and strong scent is impressive, while the flowers that bloom are small. The flower language is "humility," and it can be said that it is the perfect flower for the Japanese people's temperament.
Sightseeing Spot of Fragrant Olives
We recommend "National Showa Kinen Park" in Tachikawa City, Tokyo, as a sightseeing spot in fragrant olives.
Showa Kinen Park is a national park constructed in commemoration of Emperor Showa's coronation 50 years. There are many open spaces, cycling courses, pools, etc. in the park, and it is a recreation facility that local residents and people from afar often visit.
It is a spot where you can enjoy flowers of the four seasons of Japan throughout the year, such as cherry blossoms in the spring, sunflowers in the summer, and fragrant olives in the fall, as well as cosmos and ginkgo.
A Festival Where You Can Enjoy Fragrant Olives
There is no festival in Showa Kinen Park where you can enjoy fragrant olives, but there are cosmos and yellow ginkgo trees.
Ginkgo trees in Showa Kinen Park are a popular tourist spot in Japan, and they are even used as a stage for shooting TV dramas. It is a spot where you can enjoy autumn with the golden shining row of ginkgo trees and the sweet scent of fragrant olives.
Winter Flower: Plum Blossom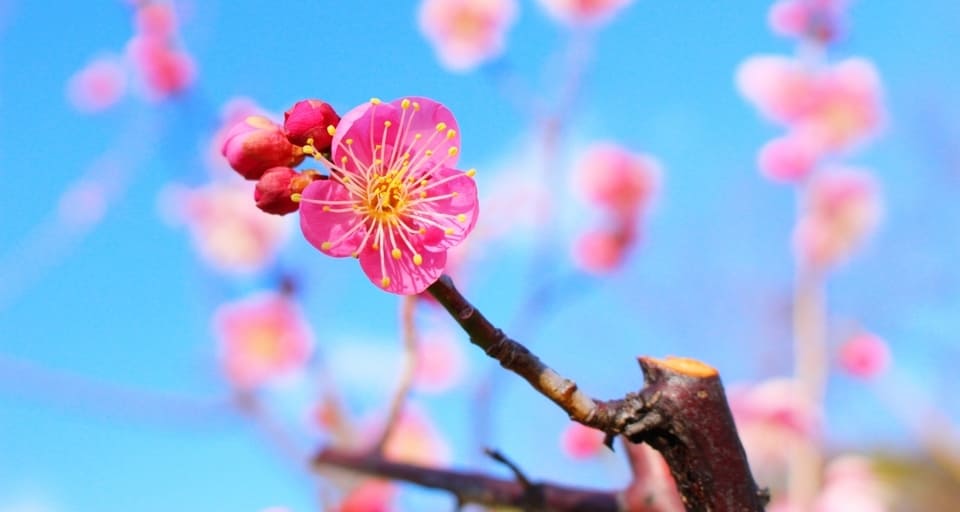 The flower that represents winter in Japan is the plum blossom.
In Japan, it is familiar to eat plum fruits as pickled plums, but plum blossoms are also loved for ornamental purposes. Although it is not well known, what is eaten as fruit is called a "実梅(miume)" without flowers, and the plum that blooms for ornamental purposes is distinguished from "花梅(hanaume)."
The flower blooms from February to March and the fruit grows from June to July.
The origin of plum blossoms is China, and it is said that it was introduced to Japan during the Yayoi period. Wakayama is famous as the place where plum is produced as a fruit, but Kyoto is famous as a tourist spot for plum blossoms.
Sightseeing Spot of Plum Blossoms
Kitano Tenmangu Shrine in Kyoto is famous as a sightseeing spot where you can enjoy plum blossoms. It is dedicated to Michizane Sugawara, the god of learning, and is known by the nickname of "Tenjin-san."
About 50 species and 1,500 plum blossoms are planted in the precincts, and the plum garden is open to the public when the plum blossoms bloom.
A Festival Where You Can Enjoy Plum Blossoms
Kitano Tenmangu Shrine holds the "Plum Blossom Festival and Tea Party" on February 25 during the flowering season.
This day is the anniversary of Michizane Sugawara's death, and it is a festival with a history of about 900 years. Besides, the tea party will be held on the same day because Hideyoshi Toyotomi held a tea ceremony at Kitano Tenmangu.
This is a valuable opportunity that you can have tea from geikos from Kamishichiken, a teahouse district in Nishijin, Kyoto, so those who do sightseeing should check it out.
Conclusion
Japan is a country with abundant nature, where you can enjoy different flowers depending on the four seasons. You may find the colorful flowers of the four seasons to bloom on the roadside.
Please visit the spots introduced in this article and enjoy Japanese flowers.