Have you ever tried conveyor belt sushi?
Conveyor belt sushi is evolving steadily, incorporating not only fresh ingredients and carefully selected rice (vinegared rice) but also big data into the world of sushi. Nowadays, when you eat sushi in Japan, conveyor belt sushi is one of the popular choices.
That said, some people may be wondering if there is a rule to use it. So, in this article, we will explain what kind of restaurant the conveyor belt sushi is, how to enjoy it, and the rules.
Please refer to it when you enjoy Japanese food culture and conveyor belt sushi.
What Kind of Restaurant is Conveyor Belt Sushi?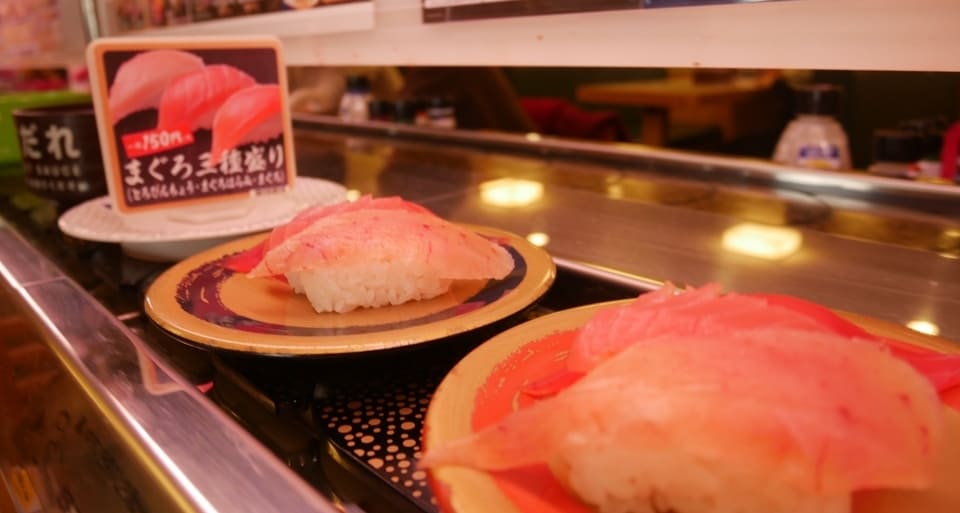 Sushi is now popular all over the world, but the history of nigiri sushi is said to have begun in the 19th century of the Edo period.
In the Edo period, when the work was over, it was quickly eaten by the stalls and was popular with many Japanese people as fast food. After that, the sushi you eat while sitting at the sushi bar counter or the table had turned into high-class Japanese cuisine.
As a healthy meal, sushi made with various kinds of fresh fish is enjoyed not only by Japanese but also by foreigners. And conveyor belt sushi has developed.
First, we will explain what kind of restaurant the conveyor belt sushi is.
The First Conveyor Belt Sushi was Born in Osaka
With the birth of conveyor belt sushi, the sushi industry has undergone significant changes. The idea of ​​conveyor belt sushi, which overturned the style of eating sushi directly offered by sushi chefs, was surprising.
In 1958, the first revolving sushi was born in Osaka's "Ganso Mawaru Genroku Sushi." It was due to the late Mr. Yoshiaki Shiraishi (former chairman.)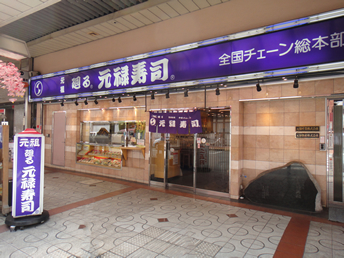 When you enter the conveyor belt sushi restaurant, you will notice the installed chain conveyor first. It is constantly rotating, and there are sushi plates on top of it.
The idea by Shiraishi was inspired by the belt conveyor used in the beer factory in Osaka.
"Ganso Mawaru Genroku Sushi" opened its first franchise store in Sendai City, Miyagi Prefecture 10 years later, and developed an automatic tea-supplying device. And in the 1970s, conveyor belt sushi became so popular.
By the way, the '70s was the period of the world's first e-mail and the release of Sony's Walkman. At such times, the Japanese sushi industry also experienced significant changes.
What is the Concept of Conveyor Belt Sushi?
Conveyor belt sushi has created a flow that has never been seen in the sushi industry. But what is its concept? In a nutshell, it's about feeling free to eat delicious sushi and satisfying your stomach and heart.
This is the exact opposite of a sushi restaurant with a high threshold and reproduces sushi, which was fast food for ordinary people in the Edo period.
Also, being able to enjoy sushi without hesitation, like using a family restaurant with children would be an advantage for many people.
As above, the concept of conveyor belt sushi is to provide everyone with easy and delicious eating of sushi.
Easy-To-Understand Pricing
The period when Mr. Shiraishi developed revolving sushi coincides with the time when Japan was suffering from a shortage of people.
Mr. Shiraishi, who was running a standing-style sushi restaurant, focused on rationalization for people who would soon quit even after hiring and realized that by making the belt conveyor of the beer factory into rotary sushi.
In this way, conveyor belt sushi has become the most rationalized form, and it is possible to offer reasonable and delicious sushi, which is also its concept. Some shops offer a uniform 100 yen, while others serve authentic sushi that is as good as a high threshold sushi restaurant.
As you know, the price of sushi depends on the ingredients. Conveyor belt sushi allows you to eat sushi with peace of mind because the price is "visualized" depending on the color of the plate. When you finish eating, count the number of plates of each color.
The reason why conveyor belt sushi is highly popular is that customers can enjoy cheap and tasty sushi with peace of mind by rationalization, and high customer satisfaction.
Most Touch Panels are Available in English
Have you ever had the following experiences?
You were nervous when you sat at the counter at a sushi restaurant
You didn't know what to order but couldn't consult the sushi chef as you can't speak Japanese
You were worried about how much it would cost as the price is not indicated
With conveyor belt sushi, you can resolve all these anxieties. Because you choose your favorite sushi that comes in front of you, there is no language problem.
Besides, there is a system where you can order what you want to eat by operating a touch panel. When you order, the sushi will flow to the chain conveyor.
Most of the operation panels are available in English as well as Japanese. With this touch panel, foreigners can easily order their favorite sushi.
How to Enjoy Conveyor Belt Sushi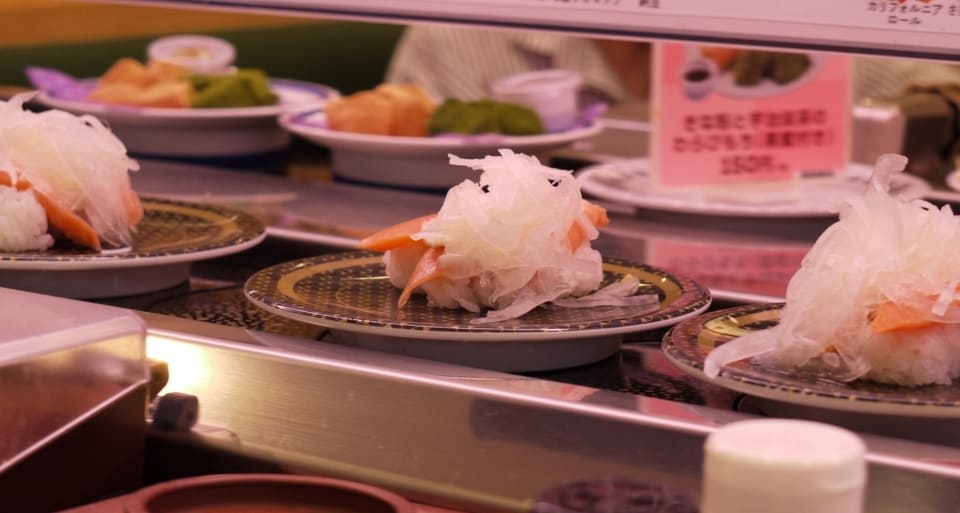 For those of you who are thinking of going to conveyor belt sushi, here we introduce the conveyor belt sushi system and rules you should know.
How Can We Eat Sushi with Conveyor Belt Sushi?
First, we will introduce the process of eating sushi with conveyor belt sushi.
As I mentioned earlier, there is a chain conveyor inside the conveyor belt sushi restaurant. When you enter, the staff will guide you to sit at a counter or a table. All seats are adjacent to the chain conveyor.
At counters and tables, you can find the following:
Hand towel
Powdered tea
Teacup
Chopsticks
Soy sauce
Small plates for soy sauce
Gari(Slices of ginger pickled in sweetened vinegar)
The sushi is placed on the chain conveyor and flows in front of the customer, so it is a very simple system that you can take the plate when you see sushi you want to eat.
By the way, you can eat sushi either with chopsticks or with your hands, but please turn it over and dip it with soy sauce.
Tea is Self-service
While waiting for sushi, let's pour tea. Put the powder in a teacup and press the hot water button located at the seat to complete it.
Alcohol Can be Ordered on the Touch Panel
Conveyor belt sushi restaurants also offer alcohol. It's easy because you can order using the touch panel. Besides, some stores offer an all-you-can-drink plan at 500 yen.
Payment of the Bill
When you finish eating, you need to make the payment. For example, Sushiro, which has been a huge success in using big data, has introduced a self-checkout system that allows customers to make payments using the QR code given at the time of reception.
Also, many shops attache IC tags to their plates for settlement so that they can calculate the total amount instantly.
Isn't the matching of sushi and technology interesting for foreigners?
3 Conveyor Belt Sushi Rules You Should Know
Conveyor belt sushi is a sushi restaurant that you can easily go to, but there are some rules. If you know it in advance, you can rest assured and enjoy eating.
Do Not Take Sushi That Others Have Ordered
With conveyor belt sushi, you can order your favorite sushi on the touch panel, but please be careful not to take sushi ordered by another person.
To prevent it, most stores put ordered sushi in a way that you can see that it is ordered by another person. And when the ordered sushi approaches, you will see a message such as "the ordered sushi is arriving" on the touch panel, so please check with it.
Do Not Return the Plate You Got
Sometimes you may want to return the sushi you've got to the chain conveyor, like when you find another sushi that you want to eat more, but this is a violation of manners.
Even if you haven't touched the sushi itself, you must pick it up if you touch the plate. So please keep this in mind.
Eat Every Sushi You Got
Please eat all the sushi you picked up. Also, please avoid eating fish only and leaving rice.
Popular Conveyor Belt Sushi Restaurants
For those who want to go to conveyor belt sushi, here we will introduce popular conveyor belt sushi restaurants. All the stores in this section have English menus.
Conveyor Belt Sushi Restaurants with Reliable Quality and Price
The following 2 stores are the restaurants where you can easily enjoy sushi, which is unique to conveyor belt sushi.
Toriton(トリトン)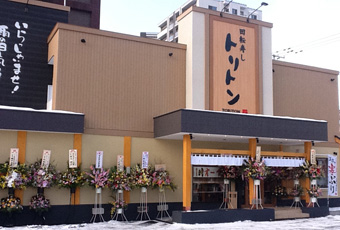 In Toriton, most of the sushi chefs are from Hokkaido. Their safe and secure ingredients are also directly from Hokkaido. They make great sushi from carefully selected seafood that they purchase on the day.
There are only 2 stores in Tokyo, and others are in Hokkaido. This is a conveyor belt sushi restaurant where you can enjoy the seasons of each material.
The environment inside the store is wonderful, with the cheerful voices of the sushi chefs and staff, and the optimal room temperature adjustment that makes you feel the taste of sushi is delicious.
Kura Sushi(くら寿司)
It is a conveyor belt sushi chain store that operates nationwide under the concept of "safe, delicious, and cheap."
The characteristic "Shari half(half-size rice option)" is a form of the idea of Kura Sushi for customers who are concerned about sugar. In addition to the sushi menu, which starts at 100 yen per dish, you can find a wide selection of ramen, tempura, and sweets.
Besides, stores of "無添 くら寿司(additive-free Kura Sushi)" offers sushi that does not use chemical seasonings, artificial sweeteners, synthetic colors, or artificial preservatives for 100 yen. Highly recommended for those who want to eat safe sushi.
Conveyor Belt Sushi Restaurant Recommended for Families with Children
When you want to have a meal with your family on weekends or anniversaries, conveyor belt sushi is one of the highly recommended options. Conveyor belt sushi, which you choose and eat by yourself, is a big entertainment for your child.
It's also nice that they have a children's menu, cutlery, and a multipurpose toilet like the family restaurant.
Sushiro(スシロー)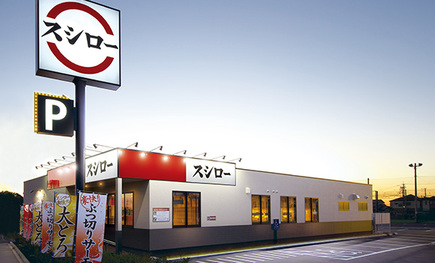 Sushiro uses big data to collect various data from dishes. As an example, they have succeeded in reducing the amount of food waste to one-fourth by predicting how much customers will eat. This led to cost reductions and was able to offer delicious sushi at low prices, making it a popular restaurant.
It is popular among people who want to enjoy sushi with children, as there are many menus other than sushi, goods can be obtained with a kids' stamp card, and two plates are free with au Smart Pass.
Sushi Choushimaru(すし銚子丸)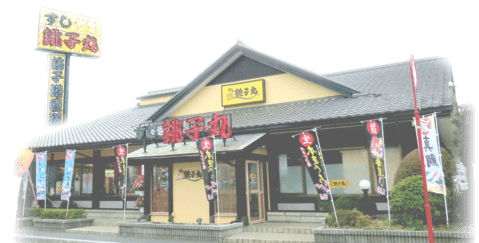 Sushi Choushimaru is not a 100 yen sushi restaurant, but it is popular for its fresh and delicious sushi.
In addition to nigiri sushi, there is also a gourmet bowl menu. There is also a sushi set for children, and they serve freshly made Japanese rolled omelet that is popular with children.
The highlight is the "Tuna Dismantling Show." Not only children but also foreigners will be impressed with this (please check the website for details.)
Conclusion
Conveyor belt sushi is delicious, easy, and entertaining. It is evolving day by day, and even things like "high-end conveyor belt sushi" and "all you can eat conveyor belt sushi" are coming out.
You can safely eat delicious sushi without complicated manners, so please try it once.