There is a wide variety of confectionery in Japan, ranging from expensive to reasonably priced. Among them, the snacks, which are popular among children and can be purchased at a low price, are called "dagashi(Japanese cheap candy)."
Children love dagashi, but even adults love them because they remind them of their childhood and provide a nostalgic feeling.
Each manufacturer makes a variety of ingenious candies, and just because they're cheap doesn't mean they're low-quality. Here are some of Japan's most popular dagashi, so why not give them a try?
What is Dagashi?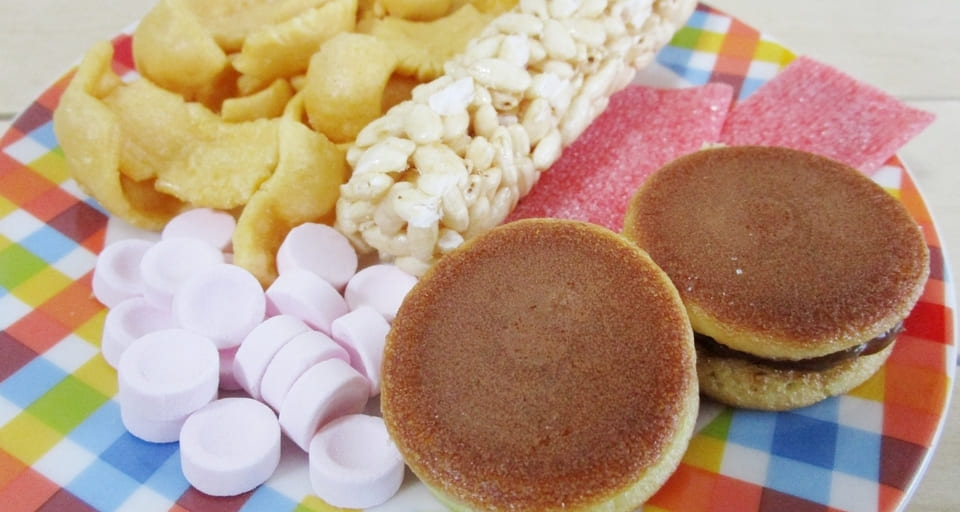 The origin of dagashi dates back to the Edo period (1603-1868). The high-class confections using superfine sugar and eaten by feudal lords and samurai were called "上菓子(jōgashi)." On the other hand, the snacks made from cereals, brown sugar, and syrup, eaten by the general public were called "一文菓子(ichimongashi)" or "雑菓子(zatsugashi)." These cheap snacks came to be known as "dagashi."
After World War II, the demand for dagashi grew as the number of children increased, which led to further development.
The snacks were made for children to buy on their way home from school, for example, with spare change from their pocket money. As a result, we can still purchase them for as little as 5 – 50 yen. It also features lottery and extras, and the package is printed with colorful and cute characters, which makes children crazy about it.
10 Popular Dagashi in Japan
There is a wide variety of types and flavors of dagashi, such as snacks, chocolates, and jellies. We have picked up 10 of them that are especially popular, so if you find one at the store, how about trying it?
Umaibo (うまい棒)
Umaibo is a stick-shaped snack that was born in 1979. It features a crispy texture and a wide variety of flavors. From the beginning to the present, you can purchase it at an affordable price of 10 yen per piece.
In addition to the popular cheese flavor and pork cutlet sauce flavor, there are also different flavors, such as corn potage flavor, natto flavor, and takoyaki flavor, and there are about 20 flavors in total, so please try and find your favorite.
It is one of the snacks that are easily available at convenience stores and supermarkets.
Yotchan Ika (よっちゃんイカ)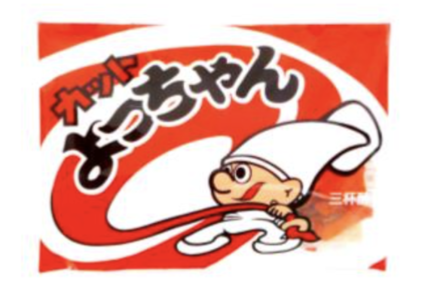 It is a long-selling product that has been on sale since 1977. A squid food processing company manufactures it, and this product is also made from squid, seasoned with sweet vinegar.
It is in the form of a thin sheet, has a refreshing taste and is chewy, and is perfect as a snack for sake. There are also variations in taste, such as dry and sweet.
Kabayaki-San Taro (蒲焼さん太郎)
なんか蒲焼さん太郎が
食べたくなったから
コンビニで買った(笑) pic.twitter.com/VLq9oDqlf2

— 翔@迷走中 (@z33turuturu) September 15, 2020
It is a dagashi that you can taste the flavor like eel kabayaki for 10 yen. It's an eel kabayaki-style snack, and it's made by processing fish paste. The texture is firmer than the actual eel.
Big Katsu (ビッグカツ)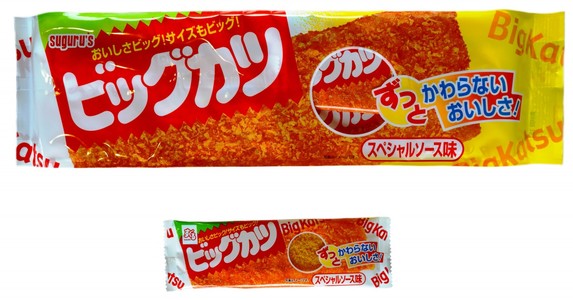 It is a snack that looks and tastes like a cutlet. This also does not use meat but uses ground fish, such as walleye pollock, and squid powder.
It's the perfect snack when you're hungry. There are also other flavored products, such as miso katsu and curry cutlet, which are arranged taste from the classic big katsu.
Konjac Jelly (こんにゃくゼリー)
こんにゃくゼリー極めし者だけど異端か? pic.twitter.com/1CwWYHA9eu

— 🔥🍁🔥ほむりりい🍁🔥🍁🐸 (@homulilly14) August 7, 2020
This is a stick-shaped jelly that uses konjac potato flour as the raw material. It is colored yellow, pink, and light blue, and its eye-catching colorful hues are very popular with children.
We recommend you to chill it before eating, but if you freeze it, you can enjoy a different texture.
Black Thunder (ブラックサンダー)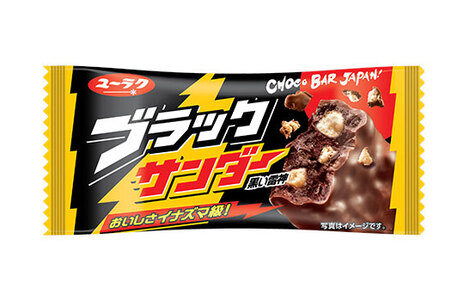 "Black Thunder," which has many strong fans, is a sweet made from chocolate. Cocoa-flavored cookies and plain biscuits are coated with chocolate, giving it a crunchy texture. Because it uses cocoa cookies with a slightly bitter taste, the sweetness of the exquisite balance is supported by a wide range of people.
It is a very popular confectionery, and in 2017, the annual sales exceeded 165 million units.
TIROL Chocolate (チロルチョコ)
It is a bite-sized small chocolate that every Japanese knows. The standard products are milk chocolate flavor and almond-containing products, but recently Japanese-style chocolate with kinako mochi has become a popular product.
It features abundant variations, and the number of types released so far exceeds 300. The cute wrapping paper design, which varies greatly depending on the taste, is also pleasing to the eyes.
Butamen (ブタメン)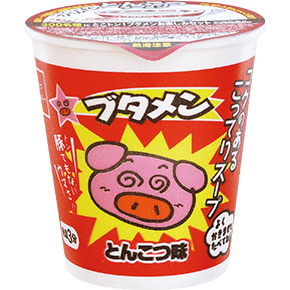 Butamen is a small cup noodle that you eat by pouring hot water. You can find an illustration of a cute pig on the cup. The tonkotsu flavor, which is a standard product, is the most popular, but it has soy sauce flavor, tongue salt flavor, and curry flavor as well. It is very popular as a snack for elementary school students.
Baby-Star Ramen (ベビースターラーメン)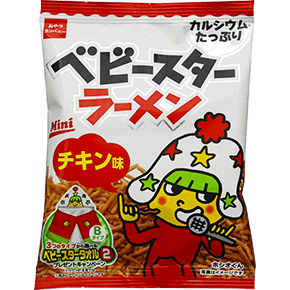 Although it has the name "ramen," it is for eating as a snack without pouring hot water. It's a simple chicken-based flavor, but it has the appeal of being eaten without getting tired.
Baby-Star Ramen was released in 1959. The origin of it was the small pieces produced in the process of making instant noodles. The pieces were seasoned and distributed as a snack for employees, and they liked it, so it became a product. Currently, it has a variety of products, such as noodles with different shapes and regional limited products.
Ramune Soda Candy (ラムネ)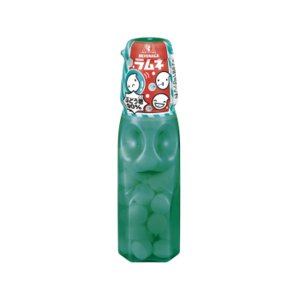 "Ramune" means a bottled carbonated drink with a refreshing taste, but sweets shaped like tablets are also called ramune. Ramune manufactured by Morinaga & Co., Ltd. is contained in a container that looks like a unique glass bottle of ramune beverages and is characterized by its refreshing sweetness.
It originally was a product for children, but in recent years, the good function of its raw material, glucose, on the brain has attracted attention. And it has become a hot topic among business people and examinees who want to improve their concentration. This is a particularly recommended snack when you want to change your mood.
Where Can We Buy Dagashi?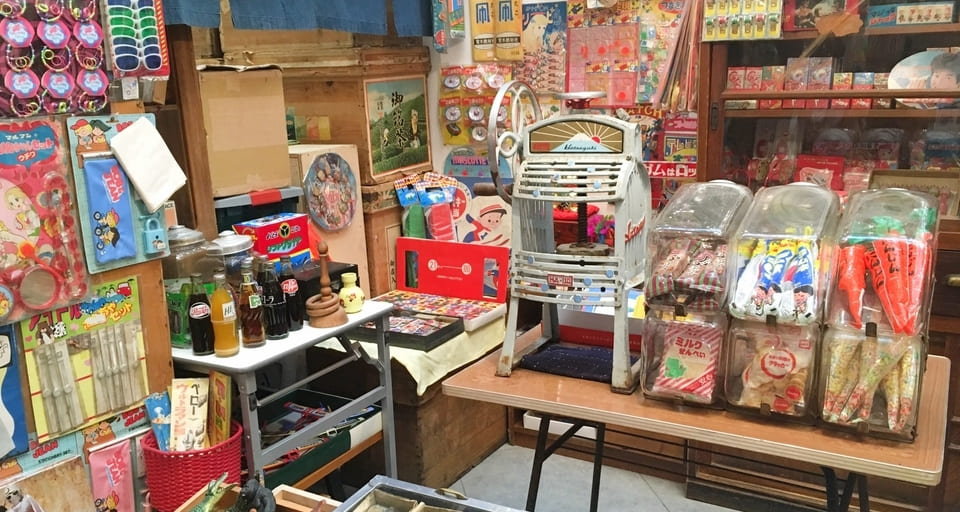 Speaking of places that sell dagashi, it is dagashi stores. In the old days, there were dagashi stores near schools and on the way to school, and many children gathered there after school. Unfortunately, those stores are gradually disappearing, but the popularity of dagashi is still alive. You can find top-selling products at convenience stores and supermarkets.
You can also get some cheap candies if you go to a confectionery specialty store called "Okashi no Machioka," and recently there are cases where there are stores selling dagashi in a large shopping mall.
Also, you can buy dagashi online at Rakuten, Amazon, etc. without visiting real stores. It's a good idea if you want to buy a lot at once, or if you want to buy an assortment of different types of sweets.
Besides, there are "Dagashi Bars" in Tokyo and Osaka where you can enjoy all-you-can-eat dagashi. A retro space reminiscent of the Showa period (1926-1989) is prepared, and we recommend it for those who want to feel the atmosphere of a dagashi store.
Conclusion
High-class sweets are good, but dagashi is also full of charm that not only children but also adults can be absorbed in. It's reasonably priced and sold in small packages, so it's also an advantage to be able to taste many types little by little.
If you bring some dagashi and have a party, it will surely be exciting. Find your favorite sweets and have a good time.