As in many countries, Japan also has Mother's Day to thank mothers.
In this article, We will tell you more about when and how Mother's Day in Japan is celebrated.
When is Mother's Day in Japan? And How was it Established?
Mother's Day in Japan is the second Sunday in May. In 2020, it is May 10th. It is said that Mother's Day in the United States had been brought to Japan as it is.
It was the beginning of Mother's Day when a woman named Anna Jarvis, who was in America at the time, handed out white carnations at the memorial service of her dead mother. In 1915, the U.S. Congress enacted a law with the second Sunday of May as "Mother's Day."
It is said that Mother's Day was brought to Japan by Christians, and many Japanese have the impression that Mother's Day is the day to give carnations to their mother.
Customs of Mother's Day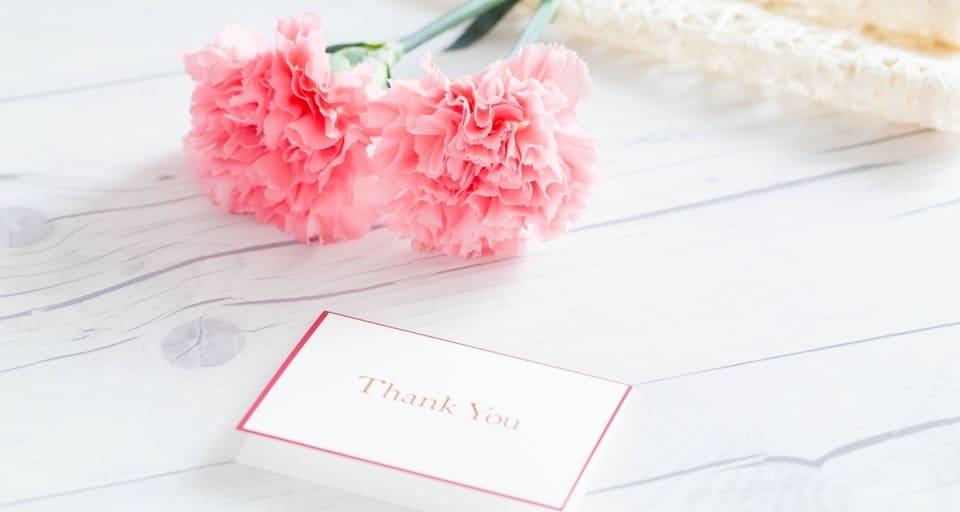 Many Japanese traditionally send carnations to their mothers. Some people buy it at the flower shop and hand it over, while others prepare flower gifts through online shopping.
Also, those who are familiar with flowers refer to the flower language of each color to choose a carnation.
| Carnation color | Flower language |
| --- | --- |
| Red | "Love for mother" "Mother's love" |
| Pink | "Women's love" "Beautiful gesture" "Warm heart" |
| White | "Pure love" "My love is alive" |
| Yellow | "Jealousy" "Contempt" |
| Purple | "Pride" "Dignity" |
| Blue | "Eternal happiness" |
You can choose white carnations as Anna Jarvis did, or red carnations that represent "Mother's love." Other colors except for yellow are also good. By the way, the carnation itself has the meaning of "innocent and deep love."
However, if your mother is not the type who cares about the language of flowers, you don't have to be that particular. It's all about whether your mother is happy.
Mother's Day Gift Trends and Recommendations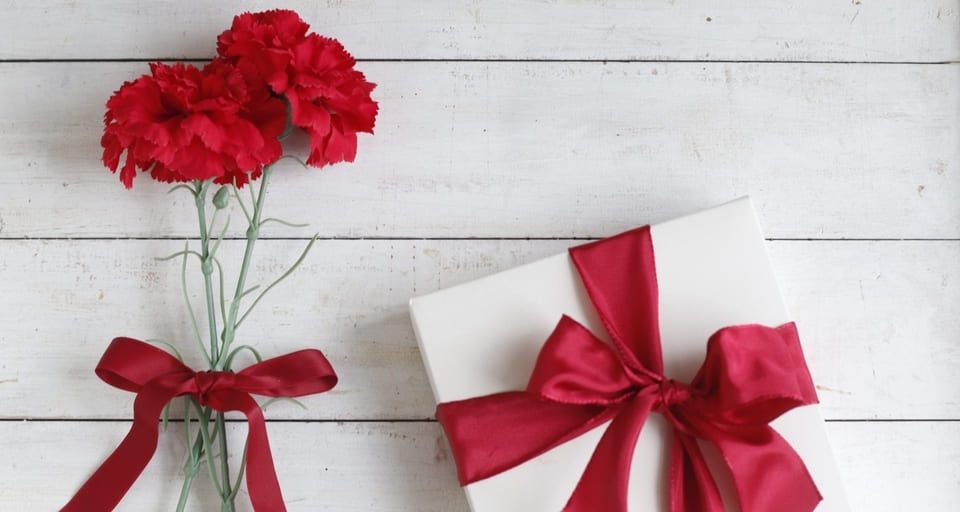 So what kind of gifts are given on Mother's Day?
According to a survey conducted by Rakuten Insight in 2019, "Flower Gift" was the most common gift given to Mother's Day, accounting for 54.4% of the total (multiple answers accepted). "Sweets" was the second most popular, with 34.0%, followed by meals (including restaurant vouchers).
Below, we will introduce the recommendations for each gift.
Flower Gifts
Flower gifts are very popular as gifts for Mother's Day. We recommend that you choose one that contains carnations.
As Mother's Day approaches, you can buy flower gifts for Mother's Day from a variety of florists. Some florists have English websites, so please take a look.
For mothers who are overseas, you can send flower gifts through a florist that supports overseas shipment.
When flowers arrive from abroad on Mother's Day, your mother will surely be very pleased.
Sweets
It's also good to celebrate by giving sweets. You can find many sweets for Mother's Day sold at department stores, etc.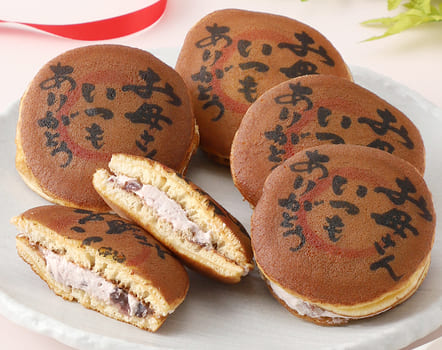 Especially if your mother is overseas, she may be happy to have Japanese sweets that are hard to find in her country.
You can send sweets by using a shop that supports overseas shipping, or you can ship them overseas with EMS by yourself. Please note that you cannot send sweets to some countries.
Examples of recommended shops that support overseas shipping include the following.
It's also a good idea to look for a shop that supports overseas delivery on Rakuten Global Market.
If you wish to ship sweets overseas by yourself, you can find more information about EMS on the page below.
Meals and Restaurant Vouchers
If you have a mother in Japan, you can give a restaurant voucher or take her to a nice restaurant with you.
Although it is offered in the Japanese language only, the following restaurant voucher is one of the recommendations.
If your mother is abroad, you cannot take her to a restaurant, but you may be able to send Japanese food. Similar to the sweets mentioned above, try to find a shop that supports overseas shipping or send it yourself using EMS, etc.
Clothes
Clothes are a good gift too if you know your mother's taste and size. Why not give summer clothes to your mother before the warm season comes?
If it is difficult to give clothes, small items such as bags and accessories may also make your mother happy.
Also, if your mother is in Japan, we recommend that you go to buy clothes together. She can choose the one she likes, and it makes her happy.
Words of Gratitude to Your Mother
Many mothers want words instead of things on Mother's Day. Sending your thank-you words in the form of letters or message cards may please your mother.
母の日のプレゼント用にメッセージカード書いた〜 めちゃ可愛くね! pic.twitter.com/7fjo0uJAJq

— なつき🦈 (@cos_natu_v) May 7, 2020
"I wrote a message card for presents on Mother's Day. It's so cute, isn't it?"
次の日曜日は母の日なので、2人でどちらのお母さんにもメッセージカードを書きました🖌🖊 pic.twitter.com/emqMypMhYW

— 同居人との生活🌈 (@tenantmaboroshi) May 6, 2020
"Next Sunday is Mother's Day, so we wrote a message card for our mothers."
Especially, it is highly recommended to attach a message to gifts such as flowers and sweets. If it's a gift for Mother's Day, a message card may come with it.
Let's purchase a message card for Mother's Day at a stationery store or an online shop, and write your words of thanks with all your heart.
Conclusion
In Japan, we celebrate the second Sunday of May as Mother's Day. Many people have the impression of the day as a day of giving a carnation, and so flower gifts are popular as a present.
On the other hand, some people choose gifts such as sweets and clothes without sticking to flowers. After all, it's best to choose what your mother is most pleased with.
If your mother is overseas, it is a good idea to give a gift unique to Japan by using a shop that ships overseas or EMS.