Kabukicho is the most famous downtown area in Japan. In recent years, the popularity of foreign tourists has increased, and you can see many foreigners as you walk around the city.
Kabukicho is also called "the city that never sleeps." Until a while ago, it was regarded as a dangerous place for an unfamiliar person to walk alone. How did such Kabukicho become a popular city for foreign tourists as it is now?
In this article, we look back on the history of Kabukicho and introduce the current situation and recommended spots. If you read this article, you will have another place to enjoy living in Japan.
What Kind of Area is Kabukicho?
Many people have the following positive impressions for Kabukicho.
It is lively and has many people
It has lots of fun spots and interesting shops
However, at one time, people had the following impressions for it.
It is a dangerous place
There are many night clubs
A suspicious person speaks to you when you walk there
Why did Kabukicho in the old days have such impressions, and why has it changed now? We will introduce the history of Kabukicho to solve such questions.
Origin of the Name of Kabukicho
The name of Kabukicho originated from the Kabuki theater called Kikuza, which was scheduled for construction then.
Kabukicho was originally an area where the poor lived, but after the war, reconstruction was proceeding under the concept of "making it a cultural and lively city." The Kikuza was to be built at the location of now Shinjuku Toho Building, which is famous for Godzilla Head.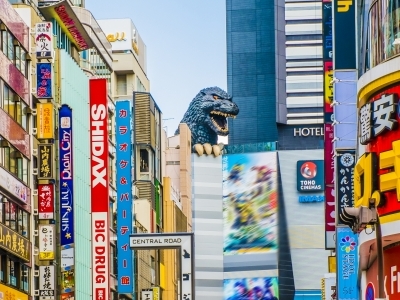 Through the reconstruction, Kabukicho was born in 1948. The Kikuza was not built after all, but from 1956, several facilities were born: the Tokyu Cultural Center, Japan's largest movie theater "Milano-za," and the "Shinjuku Koma Theater (later called the Enka Hall of Fame)." The original concept was achieved in this way.
Change of the Dark Impression to Current Attractive One
When the New Entertainment Business Control Law came into effect in 1985, regulations on late-night business in movie theaters became stricter. On the other hand, sex shops opened in succession, and the purpose of people visiting Kabukicho has changed.
Partly because Japan was in the midst of a bubble economy, these stores flourished, creating a dark impression of Kabukicho, which continues to this day.
Shintaro Ishihara, the governor of Tokyo at that time, was the one who tried to renew the impression of Kabukicho. From around 2003, as a Kabukicho cleanup operation, they implemented policies such as security measures, removal of illegal signs, the crackdown on street solicitation, and patrols.
In 2008, the Shinjuku Koma Theater, which was a symbol of Kabuki, was closed, and in 2015 the "Shinjuku Toho Building" was built on the site. The building has "TOHO Cinemas" and "Hotel Gracery Shinjuku" as main tenants, and promoted the transformation of Kabukicho into a tourist destination.
After that, new hotels emerged one after another, and Kabukicho became a tourist attraction for foreign tourists.
Standing Position of Kabukicho in Japan
Many people still have a dark impression of Kabukicho, but some people have a cultural impression, which was the original concept. You can find many places to express yourself, such as movie theaters, Shinjuku Koma Theater, and small stages.
Kabukicho is also recognized as a place to interact with other people where you can enjoy izakaya, bars, and leisure. On weekends, businesspersons visit there for seeking restaurants, and young people head there for entertainment.
Among them, "Shinjuku Golden Gai" is visited by many people as a restaurant district with more than 200 unique stores. It is known as a popular spot for foreign tourists as well, so we will introduce it in detail in the next section.
Popular Spots in Kabukicho
Here we will introduce sightseeing spots in Kabukicho, from old places, such as Shinjuku Golden Gai, to ones where you can experience the latest technology.
Shinjuku Golden Gai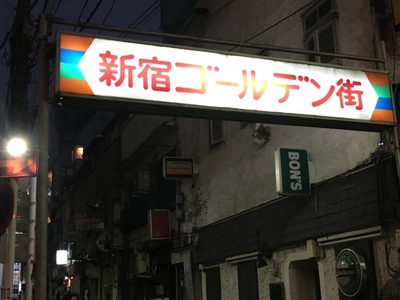 Shinjuku Golden Gai is said to have started from the black market after the war. A black market in front of Shinjuku station moved its location due to the tightening of regulations and became a restaurant district.
It is famous that many Japanese celebrities gathered in Golden Gai. The authors, editors, journalists, and other people involved in the writing gathered and began to have hot discussions. As the regular customers started to win literature awards, such as the Naoki Prize and the Akutagawa Prize, Shinjuku Golden Gai has become known as a town where cultural people gather.
After that, movie directors, directors, actors, actresses, and models visited there as guests, and those who worked as clerks in Golden Gai became famous. The stores in Golden Gai are small, and they are easy to get full. Therefore, there was a lot of interaction between the customers, and a loop was created in which regular cultural people came there with new cultural people.
It is well received by foreign tourists visiting Japan, and there is a friendly atmosphere where Japanese and other foreigners can easily communicate with each other. Some people feel that it was a spot where you could feel the Japanese culture most since the distance between the store clerk and the customers was very close.
It has been popular that the alleys with small stores line up like matchboxes. As Kabukicho keeps the atmosphere from old times, you can feel the history of Japan from the postwar period to the present.
ROBOT RESTAURANT
The ROBOT RESTAURANT opened in 2012. It's called a restaurant, but the main thing is not a meal, but an entertainment show centered around robots.
Originally targeted at Japanese people, it is now a famous tourist spot for foreigners, with popular overseas stars sneaking in. At the entrance of the store, pictures of big stars visiting the robot restaurant are displayed.
The most attractive attraction for foreigners is the entertainment show on the basement floor. The performances and dance performances using traditional Japanese cultures such as Japanese drums and shamisen, and a festival of the cast with gorgeous costumes and a giant robot is attractive.
Not only powerful performances and flashy productions but also the story of the show is a highlight. People keep laughing at the famous movie parodies and small stories.
Why don't you experience this entertainment facility unique to Kabukicho in Japan?
SAMURAI MUSEUM
The SAMURAI MUSEUM is a spot where you can experience the spirit of "Samurai," which has a name in Japanese history. There are more than 70 types of exhibits in the hall, including the armor helmets of Sengoku warlords, Japanese swords, and matchlocks. We recommend an event where you can wear a helmet and have a photo shoot and a sword fighting show by active performers.
At the event, you can take photos in the style of a warlord. When you wear a helmet, you may be surprised at its weight.
The sword fight show will be performed four times a day for about 10 to 15 minutes. The Japanese sword fighting scene in the Hollywood movie "Last Samurai" has become a hot topic overseas, but the power of the sword fighting in front of you is truly overwhelming.
Both are free events that you can attend if you pay the entrance fee, so be sure to try it when you visit Kabukicho.
Conclusion
Kabukicho is a spot where you can feel the deep history of Japan from the postwar period to the present. Now the dark impression of the past has faded, and it has become a popular spot for many foreign tourists.
If you haven't visited yet, why not visit this place?