When you travel long distances in Japan, one of the recommended means of transportation is the Shinkansen (bullet train).
Although it only stops at a limited number of main stations in each region, it also boasts fast speeds and cares about the comfort of travelling.
It is perfect for sightseeing in remote areas, so let's go to check how to use it.
What is the Shinkansen?
The Shinkansen (colloquially known as bullet train) is a Japanese high-speed railway owned by the JR Group companies.
Since it is mainly defined as a train operating at a speed exceeding 200 km / h, all of the so-called Shinkansen trains are characterized by running at a very high speed.
The currently operating Shinkansen are:
Tokaido Shinkansen
Hokuriku Shinkansen
Tohoku Shinkansen
Joetsu Shinkansen
Kyushu Shinkansen
Hokkaido Shinkansen
Hokuriku Shinkansen
Sanyo Shinkansen
Though there are various types of Shinkansen, it is okay to simply think that each type takes you in different directions around Japan. Once you have decided on your destination, you will naturally know which bullet train to ride.
You can refer to the route map below to see which Shinkansen is running in each area.
Timetables of Shinkansen
There are various ways to find the Shinkansen timetable, but looking at the official English page of Japan Railway may be the best for foreigners.
Alternatively, we recommend using the "Japan Route Finder & Calculator" service that allows you to search for routes including all conventional and Shinkansen bullet trains, and find the Shinkansen you need to ride.
Seat Classes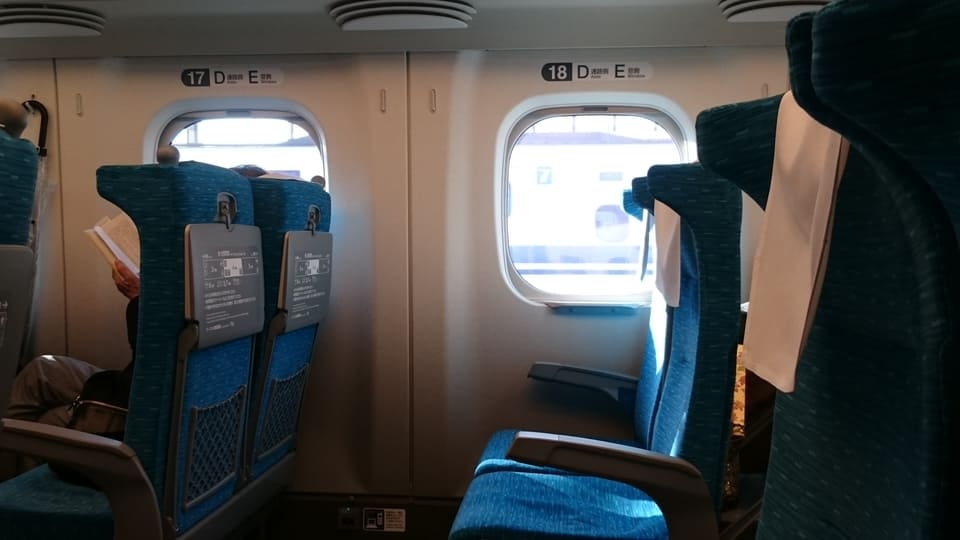 Most Shinkansen offer seats in two classes, which are typically found in separate cars: "Ordinary Car" and "Green Car". The ordinary car is further divided into "non-reserved seats" car (自由席, Jiyūseki) and "reserved seats" car (指定席, Shinseki).
Let's find out the differences.
Non-reserved seats
Jiyūseki seats are seats that freely to sit down. A person who has purchased a non-reserved seat ticket can enter a non-reserved seat car and sit on any vacant one.
If you do not make a reservation, you can save money, but there is a disadvantage that you can not sit if the seat is full.
Especially in peak seasons, you will likely not be able to sit down. So it is recommended to purchase a reserved seat ticket if you have long ride times.
Reserved seats
Reserved seat is an advance seat reservation system. The advantage of buying a reserved seat ticket is that you will always be able to sit down because you will have your own seat in the reserved seat vehicle.
Because it costs a bit higher, let's decide whether to use non-reserved seats or reserved seats based on the expected distance and congestion.
Green Car
Green cars are easier to understand if you consider them as first-class cars furnished by reserved seats. To travel in a Green Car (first class) of a Shinkansen, you will need a super (limited) express ticket and a Green Car reserved seat ticket in addition to a basic fare ticket.
With a higher-priced ticket, it offers seats that are larger, more comfortable and more foot space. It tends to be less crowded and the people who ride them are often quieter than in ordinary cars, so it's not recommended for kids or young people to ride.
Therefore, it is popular with people who can afford the high cost and want to relax while riding.
Facilities and Services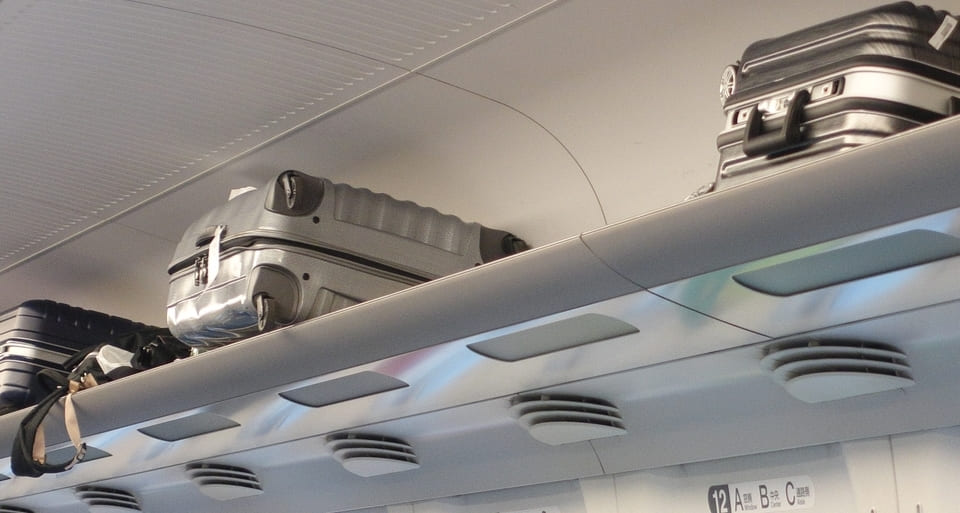 Although there are some differences depending on the car and time frame, the Shinkansen generally has the following facilities and services.
Toilet
In-car selling
Luggage storage
Power outlet socket
Wi-Fi
Trash bin
Many people first get a seat when getting on the bullet train, and if there is large luggage, they put it in the luggage storage area. The table in front of the seat often used to eat, drink and operate laptops.
You can buy snacks and alcohol from food carts inside the car, but the most famous one is ice cream. Ice cream sold on the Shinkansen is well-known for being "very hard" (硬い・固い – katai) and also called as "Shinkansen ice cream". It might be a good idea to purchase it as part of making memories.
How to buy Shinkansen tickets
Shinkansen tickets can be purchased at a JR Ticket Office (Midori-no-madoguchi みどりの窓口), Ticket Vending Machines at main stations, or online.
JR Ticket Office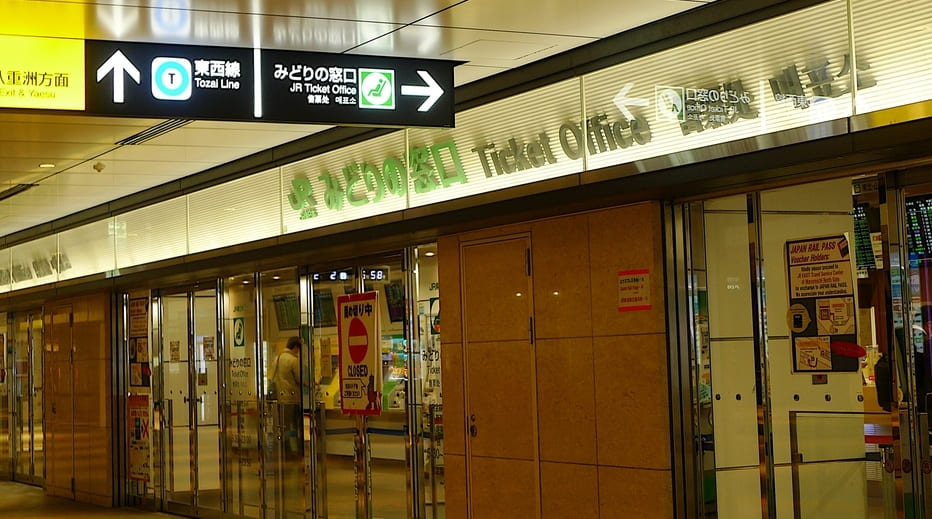 At major JR stations, there is a JR Ticket Office called "Midori-no-madoguchi" where you can purchase Shinkansen tickets.
Salespersons in this ticket office are generally familiar with the English vocabulary needed for the purchase of train tickets and seat reservations, but many have limited English conversation skills. If you do not speak Japanese, it is recommended that you write the following data on a piece of paper:
I want to buy a Shinkansen ticket
One-way or round-trip
Number of people who want to purchase and classification (adults/children)
Departure and Destination station
Date of travel
Desired seat (non-reserved seat/reserved seat/green car)
If there are many seats available, you may be asked if you would prefer a window or aisle. If you want to enjoy the scenery, choose the window side. If you want to go to the bathroom conveniently, choose the aisle side.
Ticket Vending Machines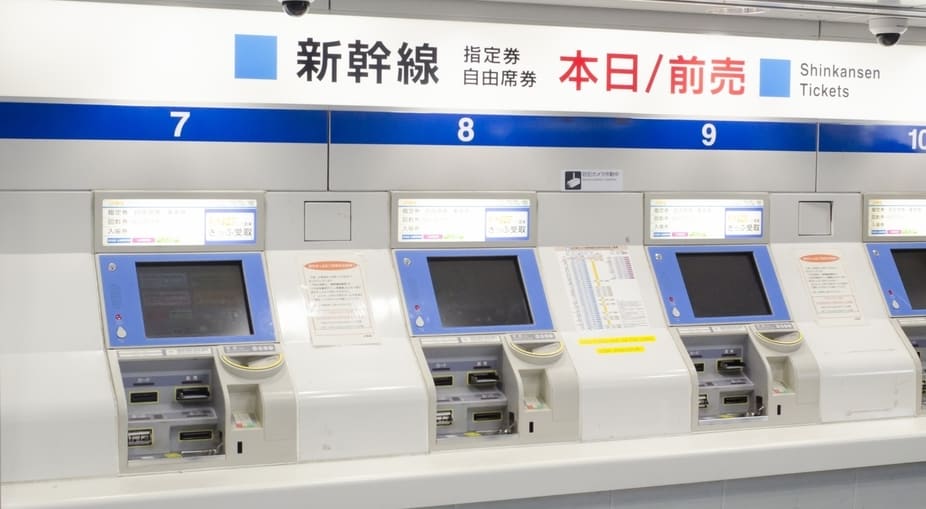 When purchasing at a ticket vending machine, use the buttons on the screen to switch to English, etc., to make the processing smoother and easier to understand.
Follow the guidance on the screen to complete the ticket purchase. If you get used to this, this may be the simplest way.
Purchasing online
For purchasing online, please go to the dedicated website of the company that operates the bullet train you want to buy. Please note that most actual tickets need to be picked up from ticket machines before boarding the train. Furthermore, tickets can only be picked up in the region covered by each system.
JR East offers Shinkansen and limited express reservations by English on the following pages.
The details on how to use this page are described in the following link:
Please make a reservation for Shinkansen in the West Japan area from the following site:
For the Tokaido / Sanyo Shinkansen, you can also make a ticket reservation using the Smart EX app. If you want to make it easier, why not check it out.
When should I buy a Shinkansen ticket?
If you have already decided on the schedule of using Shinkansen tickets, it is recommended to purchase it as soon as possible.
Especially when travelling with more than one person, if you do not buy reserved seat tickets early, there is a possibility of not having enough seats to select where everyone can sit together.
Reserved seat tickets and green tickets can be purchased from 10:00 a.m. one month before the departure date. Let's prepare as soon as possible to not become hustle at the last minutes.
Japan Rail Pass
Foreign travellers who come to Japan for a short stay can purchase a pass ticket called "Japan Rail Pass" and get unlimited rides on trains on all JR Group lines except for a certain period and certain Shinkansen.
You can purchase a voucher outside of Japan and exchange it for a Japan Rail Pass after coming to Japan. People travelling to various places for sightseeing may find it more convenient and cheaper than buying tickets each time.
There are detailed conditions such as not being available for a long-term stay, so please check the official page when considering purchasing.
Conclusion
When travelling long distances in Japan, the Shinkansen which is known for punctuality, comfort, safety and efficiency is one of the most convenient means.
If you know how to use it professionally, it can reduce the risk of being tired of travelling and not be able to enjoy sightseeing.
Please choose "non-reserved seat", "reserved seat" or "green car" ticket according to your budget and preference, and enjoy your trip to Japan.