Some foreigners coming to Japan for sightseeing may want to use a taxi that allows the driver to move, rather than learning how to change public transportation.
Also, some foreigners working in Japan may need to take a taxi for their work.
In this article, we will introduce how to use a taxi in Japan.
How to Use a Taxi
Let's take a look at the flow of taxi usage from getting on to getting off.
Getting on
There are several ways to catch a taxi.
Raise your hand at the street
Wait at a taxi stand
Arrange by phone or app
You can take a taxi by any of the above methods, but some may incur wait times or additional charges, so be sure to choose the best option at that time.
Raise Your Hand at the Street
In urban areas with many taxi users, many taxis run on the street. These taxis, called "流し (naga-shi)," are looking for passengers as they drive along the road.
If the sign on the front of the taxi is "空車 (vacant)," you can get on, so let's stop it by raising your hand.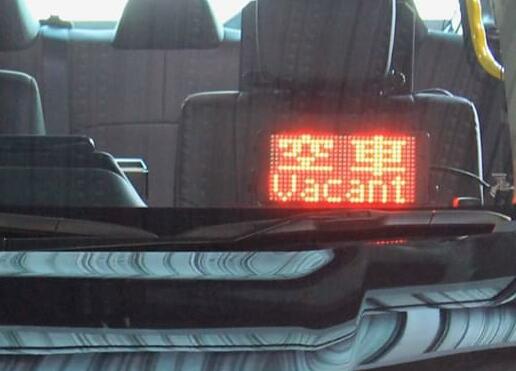 There are other signs, such as the following.
| Signs | Descriptions |
| --- | --- |
| 空車(Vacant) | There is no one on board, and you can get on. |
| 賃走(Occupied) | Another passenger is already on board. |
| 迎車(Pick-up) | The taxi has been arranged by another customer and is picking up him/her. |
| 回送(Out-of-service) | The taxi is unavailable because of inspection, etc. |
| 貸切(Reserved) | The taxi has been reserved by another customer. |
When you take a taxi, the rear door will open automatically, so you do not have to open the door yourself.
Wait at a Taxi Stand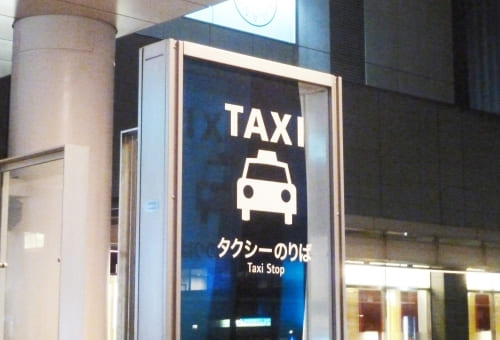 There are taxi stands near large stations. A taxi with no passengers will return here so you can board without having to look for it on the street.
However, depending on the time of day, such as midnight on Friday when the last train is over, the stand will be very crowded. You have to wait a long time when there are many people.
Arrange by Calling or App
You can also call a taxi to your designated location by calling the taxi company directly or by using the dedicated app.
You don't have to search for a taxi on the road or wait for a long time at the taxi stand, but be aware that an additional charge will be incurred. Use it if you have enough money or if there are no taxis or taxi stands available.
An example of an app that can arrange a taxi is JapanTaxi.
Please note that it is more reliable to call a taxi company directly, so apps are just one of the options.
Number of Passengers
A normal taxi can accommodate up to 4 people. In this case, three people sit in the back seat, and one sits in the passenger seat.
Large taxis and wagon taxis may be able to accommodate more than five people, but basically, it is better to think that the limit is four.
By the way, luggage such as suitcases can be loaded in the trunk of a taxi. For standard sizes, you don't have to put them in the back seat together.
Departure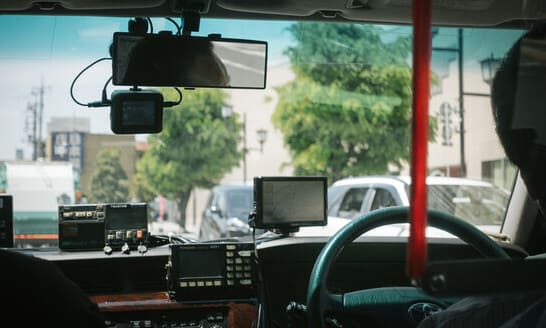 When you take a taxi, tell the driver your destination. If it's a major train station or tourist spot, all you have to do is tell the name of the place. If it isn't, give its address to the driver.
Most taxi drivers don't speak foreign languages, so it's easiest to show them the address written in Japanese on your smartphone screen or a small piece of paper. Even if the taxi driver does not know the location, there is no problem as he/she will search the route by entering it in the car navigation system.
And, remember to fasten your seat belt while you are in the taxi.
Getting off
When you arrive around your destination, pay the fare, and exit the taxi. Fees and payments will be explained in detail in the next section.
If you have your luggage in the trunk, be sure to take it out.
Taxi Fare and Payment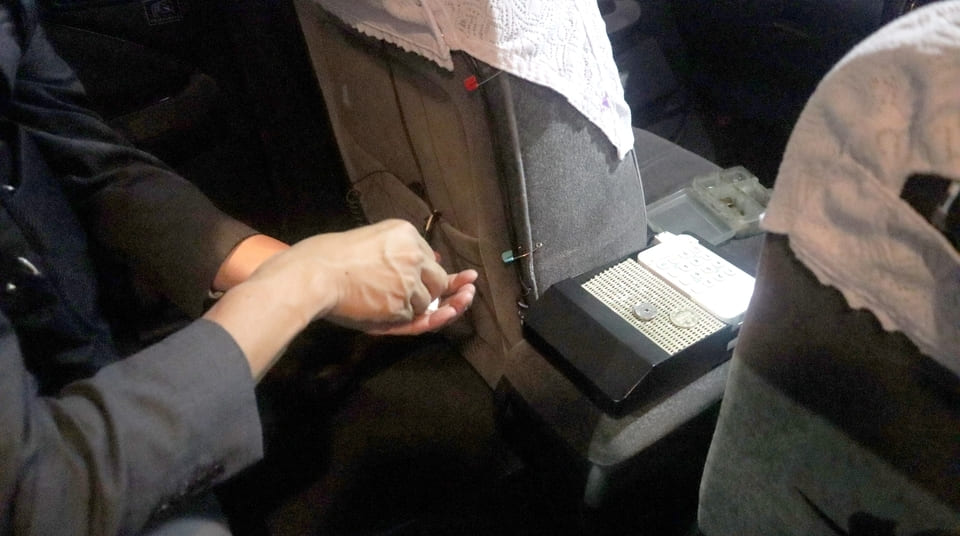 When you leave the taxi, you will pay the fare calculated according to the distance traveled. Let's take a look at how the fee calculated and how to pay.
Structure of Taxi Fare
Typical taxi fares are determined as follows:
Initial Fare + Meter Fare (+ Highway Tolls, Pick-up Fee, and Reservation Fee if any.)
In addition to the above, fares are generally around 20% higher in late nights.
Initial Fare
The initial fare is a fixed fare set from the beginning. No matter how short you get off the taxi, you have to pay this amount.
The amount varies depending on the region and taxi companies, but in most cases, it is set at around 400 to 700 yen for the first 1-2 km.
Meter Fare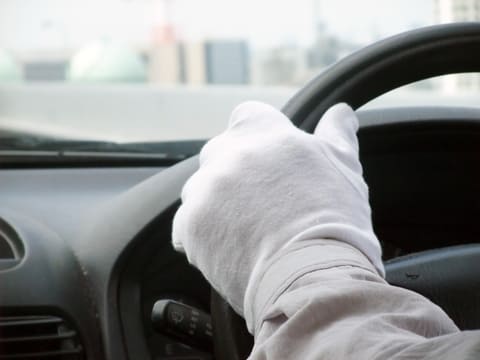 If you exceed the distance of the initial fare, the meter fare will be added from there according to the distance traveled.
As the price rises by about 80 yen for every 200-300m, some people leave the taxi before the charge is added when they reach the area where they can reach their destination on foot.
A regular taxi fare is the sum of the initial fare and this amount.
Highway Tolls
If the taxi gets on the highway, you will also have to pay the actual cost of the highway toll.
Pick-Up Fee
If you arrange a taxi by phone or by an app, there is basically an additional charge. It's usually around 400 yen.
Reservation Fee
While calling a taxi for immediate use is a normal arrangement, calling it at a specific date and time is a reservation. Reservation is handled separately from the normal arrangement, and it costs the reservation fee.
When you make a reservation for a taxi, the reservation fee will generally be charged in addition to the pick-up fee. The price is often around 400 yen.
Late-Night Surcharge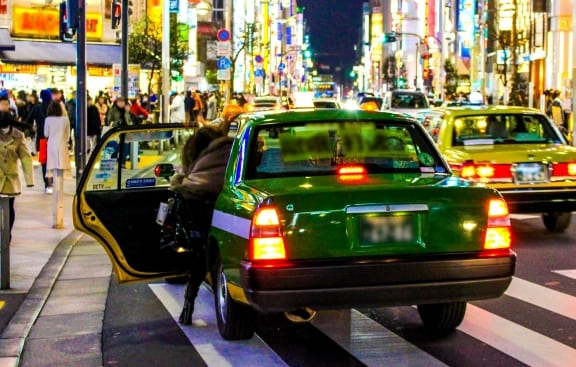 Basically, taxi fare will be higher in the middle of the night. Many taxi companies add a late-night surcharge during the hours of 10 pm to 5 am.
This does not mean that a fixed amount is added, but the fare generally increases by about 20%.
Payment Methods Available in a Taxi
The following payment methods are mainly available for taxis in Japan.
Cash
Credit card
Electronic money (Suica, PASMO, QUICPay, etc.)
QR code (PayPay, etc.)
Taxi ticket
However, some taxis do not accept payment methods other than cash, so please check when you get on.
You can find stickers of the supported payment method on the taxi window.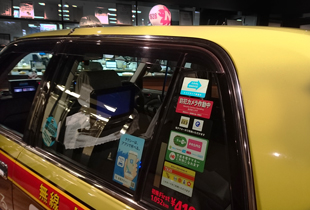 If you are uncertain about the payment method, ask the taxi driver directly.
What is the Taxi Ticket?
A taxi ticket is a ticket issued by a taxi company, etc. that can be used for payment of fares. The fares will be billed together at a later date. You might get it in business circumstances.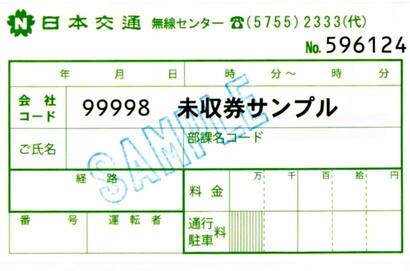 Whether your taxi ticket is accepted or not is determined depending on the issuer, so if you are worried, ask the driver if you can use your taxi ticket.
Japanese Taxi Companies that can Handle Foreign Languages
For those who want to use a taxi but are worried about communication in Japanese, we would like to introduce taxi companies that support foreign languages.
Nihon Kotsu Taxi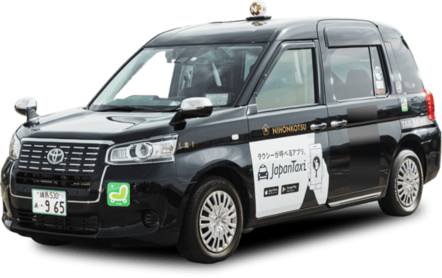 Nihon Kotsu is highly recommended for foreigners not only because it has an English version of the website but also because there is a telephone service that can handle English.
It's also good that it supports a wide range of payment methods, including cash, credit cards, QR codes, and electronic payment.
They also offer fixed-rate taxis for Haneda and Narita airports and Tokyo sightseeing taxi services. The sightseeing taxi is available in English and Chinese, and French and German are available as well at the level of daily conversation, so it is also recommended for people who do not speak English.
MK Taxi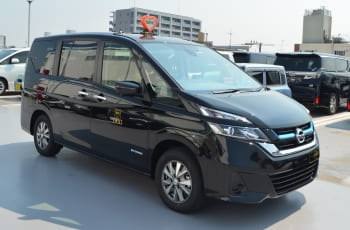 MK taxi is recommended for use in areas such as Kyoto, Sapporo, Nagoya, Osaka, and Kobe. They have a multilingual website, and some drivers can serve passengers in English.
If you want an English-speaking driver, please request a quote from the page below. Regarding the Kyoto sightseeing taxi, some drivers seem to be able to speak Chinese and French.
Hinomaru Kotsu Taxi

Hinomaru Kotsu is a taxi company with foreign drivers. Some people in the call center can speak English, so you can call them in English if they are available.
If you want a foreign driver, proceed with the reservation from the page below and enter the request that you want a foreign driver in the remarks column.
For your information, if you make a reservation from "Book without membership registration," membership registration is not required.
Conclusion
Taxi is very convenient when you can't use other means of transportation, so learning how to use it is important.
There are few drivers who can handle foreign languages, and in most cases, they are available only in sightseeing taxis and flat-rate taxis. Therefore, we recommend you be prepared for drivers who only speak Japanese.
If you have enough cash and you can show a paper or web page with your destination address written in Japanese, you can take a taxi without much trouble.