No matter what country you live in, the internet has become an integral part of our lives. The number of people who are looking for information necessary for work and life, watching videos on YouTube, and recently doing remote work is increasing.
We use the Internet casually, but we think there are surprisingly few people who have used it outside their own country.
In this article, we will introduce to foreigners who are planning to live in Japan, how to start using the Internet at home.
How to get an internet connection at home
How to make a contract
Required procedures
You can find answers to such questions in this article.
Three main ways to use the Internet
There are three main ways to use the Internet at home.
Use optical line
Use a mobile WiFi router
Use the tethering function of your smartphone
We summarized them in the table, so please see it as a guide.
Item
Optical line
Mobile WiFi router
Tethering
Communication speed
◎
○
○
(According to the communication speed of the smartphone)
Contract period
Mostly 2-3 years
Mostly 0-2 years
None (monthly system)
Connection method
Wired
Wireless
Wireless
Fee
Mainly from 4,000 yen ~ per month
Mainly from 3,000 yen ~ per month
Monthly 0 yen ~
Characteristics of Optical Line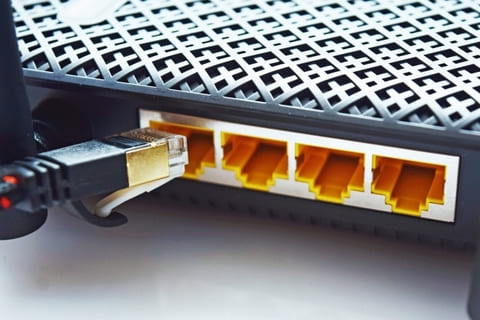 Optical lines generally have the highest communication speed and are suitable for large-capacity data communication. You can comfortably hold long-term video viewing and online meetings.
A contract with a provider is required to use the Internet on an optical line. In Japan, there was an image that "optical fiber lines are expensive" in the past, but recently it has become possible to use it at a reasonable price, so you should consider it.
We recommend using optical fiber to those who carry out large-volume data communication, such as remote work or online meetings, at home.
For those who use home appliances connected to the Internet and those who use different devices in their families (PCs and tablets for parents, games for children, etc.), we recommend renting a WiFi router from a vendor.
The disadvantage of the optical line is that it is necessary to perform line construction after applying. The problem is that construction costs high, and you cannot use the Internet immediately until it is completed.
Characteristics of a Mobile WiFi Router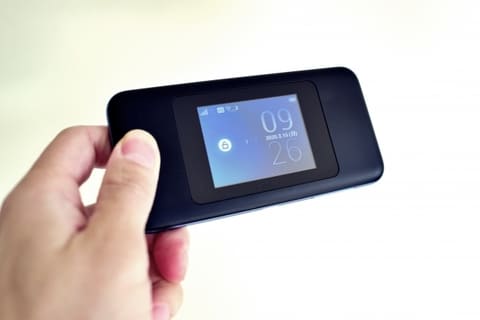 Although the Internet using mobile WiFi has a little lower communication speed than optical lines, there are almost no problems when using it for watching videos and others.
The main advantage of mobile WiFi is that you can carry it with you. Even if you are out or moving, you can connect your computer or tablet to the Internet.
Depending on the location, the communication status may deteriorate, but there are no other major disadvantages. Since you don't need to have a line construction, you can start using it as soon as the router arrives.
Characteristics of Tethering
If the tethering function is available on your smartphone, you can use it to connect your PC and others to the Internet. This function enables you to use your smartphone like a mobile WiFi router, and the communication speed follows it of the smartphone.
The disadvantage of tethering is the low data traffic available. The amount of data that you can use for tethering is within the range of smartphone contracts, so those who subscribe with a plan with a low data amount are more likely to exceed the capacity of it. It also consumes the smartphone's battery, increasing the risk of running out of battery on the go.
If you want to use tethering, we recommend changing the plan to a large capacity or unlimited plan.
Flow from Application of Internet Line to Opening
The procedure varies depending on the type of Internet line and the service provider. Here we will introduce the main ones.
For detailed procedures, please check the website of each service provider.
Optical Line
STEP1

Determining the optical line you want to use, the provider, and the options you need

Many options are charged separately.

STEP2

Application

You can apply it mainly via the Internet. Please note that you need to check the following.

Providing area (whether you can use optical fiber in your home)
Services and providers to use (choose a plan according to the type of homes, such as a single-family home or apartment complex)
Desired date for construction of the optical line

When you complete the application, you will receive a confirmation email and detailed documents.

STEP3

Optical line construction

At the date and time you set, the staff of the contractor will come and work on the optical line.

STEP4

Settings and setup

You need to set up the Internet while checking the documents from the provider.

STEP5
Mobile WiFi Router
STEP1

Determining the plan and a router you want to use

Select a plan and device on the service provider's website.

STEP2

Application

Apply by entering personal information and payment information. Unlike optical fiber lines, there is no need for construction work.

When you finish the application, you will receive a confirmation email, etc.

STEP3

Settings and setup

When the router arrives, set up while checking the enclosed documents.

STEP4
Tethering
STEP1

Setting up of the tethering on your smartphone

Turn on tethering on your smartphone. In the case of the iPhone, you can set it by the method on the following page.

STEP2
*Tethering may not be available depending on your smartphone contract plan, etc. If you have any questions, check with your smartphone contractor.
Examples of Internet Line Vendors
Here are examples of service providers for optical fiber and mobile WiFi routers.
Optical Line Supplier
There are three major mobile service companies in Japan, each providing optical fiber service.
If you have a smartphone contract with one of them, we recommend that you use the same company when using the optical line. In general, they have benefits such as price plans that are cheaper than usual.
Mobile WiFi Router Supplier
Regarding mobile WiFi routers, we recommend the WiFi routers for foreigners provided by us. You can feel free to apply because we don't have long-term (such as two years) contract period.
Other companies, such as UQ WiMAX and BIGLOBE WiMAX, are also well known.
Conclusion
The Internet is an indispensable part of our daily lives.
Contracts and settings tend to be complicated, so choosing a contractor for foreigners or a major company who can handle foreign languages ​​will give you peace of mind even if you have trouble during use.
Please choose the most suitable Internet depending on how often you use it, where you often use it, and what you use it for.