Most people who live in Japan, especially in the city center, use trains daily.
Japanese trains rarely delay and come once every 3 to 5 minutes (in a busy area), so we can use it in all situations such as commuting, schooling, and sightseeing.
Let's learn the types of Japanese trains and how to use it through the article.
Japanese Train Lines
JR lines run nationwide in Japan, and there are private railways and subways in each region. In particular, there are many routes in Tokyo, and the main types are as follows.
JR Line
Tokyo Metro
Toei Subway
Keio Line
Tokyu Line
Seibu Line
Tobu Line
Odakyu Line
Keikyu Line
Using the routes above, you can reach most areas of Tokyo by train only.
If you are a foreigner, you may often use the JR Yamanote line that runs through Tokyo's representative subcenter, Shinjuku, Shibuya, and Ikebukuro.
This is off-topic, but the Toei Oedo Line is sometimes said to be the "strongest line." It is rarely affected by bad weather as it runs deep underground, and seldom delays.
If you use Toei Oedo Line for commuting, you may have a very low risk of being late for work due to train delay.
Train Types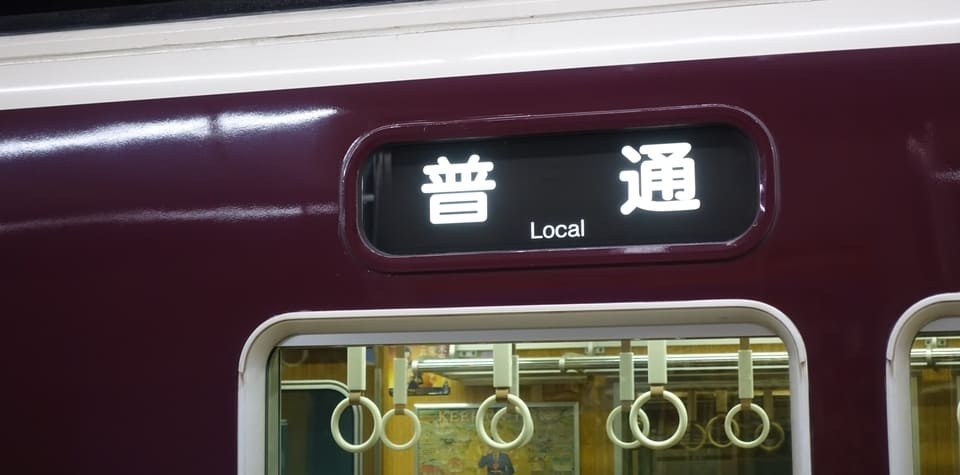 Each train is categorized into types such as local, express, etc.
| Types | English |
| --- | --- |
| 普通(各駅停車) | local |
| 準急 | semi-express |
| 快速 | rapid |
| 急行 | express |
| 特急 | limited express |
These types differ in how fast they reach their destination. While "local" trains stop at all stations, other types of trains can reach some major stations faster by passing through several stations.
Of the types listed above, the number of stations to stop is generally smaller from top to bottom.
However, this makes Tokyo's express trains very busy during commuting hours. Japan's notorious rush hour and crowded trains are prominent for express and rapid trains, so some people choose "local" trains to avoid the congestion.
Some stations are only available by "local" train, so make sure you use them properly according to your destination.
As for Shinkansen (Japanese bullet trains), we introduce how to use it in another article.
How to Buy a Train Ticket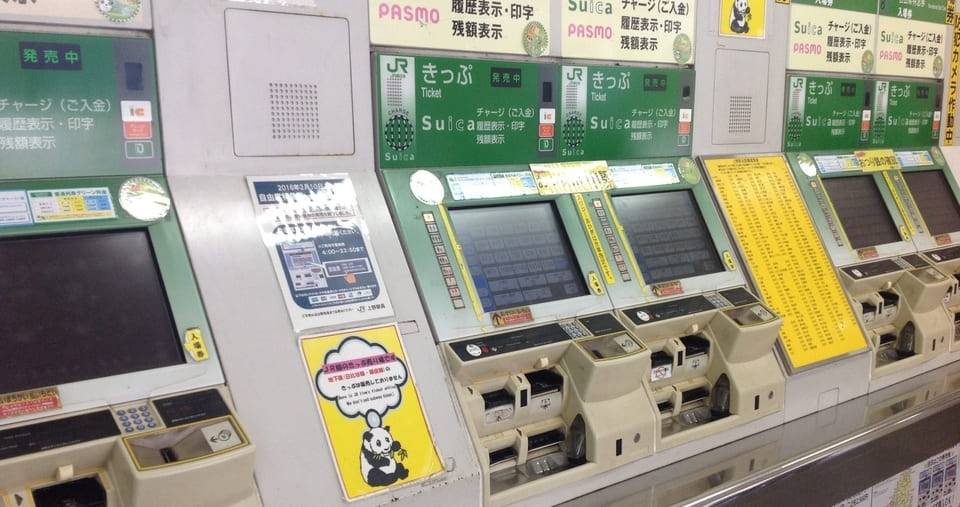 You can purchase train tickets at the ticket machine inside each station.
The price depends on the distance to the destination, so check the fare to the target station on the route map above the ticket vending machine before purchasing. You can change the notation to English by pressing the "English" button on the screen.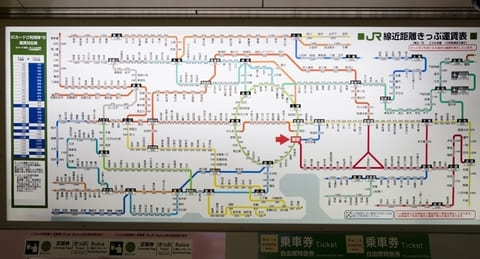 However, it is a hustle to check the price and buy a ticket every time you use trains, so most Japanese use the IC card described later.
IC Cards
Many people use IC cards such as PASMO and Suica, instead of buying tickets.
If you use an IC card, the fare will be automatically calculated and deducted when you leave the train (you need to charge money in it in advance). Besides, the fare is a little cheaper (a few yen) than the ticket.
Suica's official video (English) is very easy to understand how to get and use it, so please take a look.
Various types of IC cards are issued depending on the region, but in the Kanto area, most people use PASMO or Suica. There is no problem with using either one, as the purchasing method and usage are almost the same, only the issuing companies are different.
You can choose to purchase from two types of "named" or "unnamed" at the ticket machine (both require a deposit of 500 yen). When you return it to the station, the deposit will be refunded.
Personalized (named)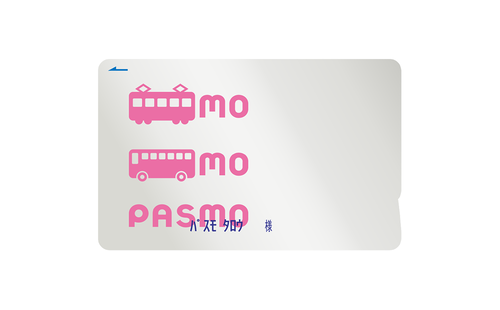 When you purchase an IC card, you can register your information (name, phone number, gender, and birthday). IC cards in which personal information entered can be reissued when you lose.
This option is recommended for those who are worried about losing it or charged a large amount of money.
Blank (unnamed)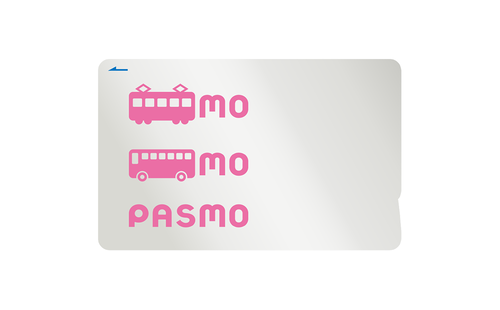 Blank IC cards can be issued easily and speedily. You do not need to enter your name or phone number.
However, please note that you cannot reissue a blank IC card when you lose.
How to Find Your Route and Fare to Your Destination
When transferring to another line, it is very difficult to find out the fare to the destination using only the route map at the station. Many people also don't know which train to take.
Therefore, many Japanese people use transfer apps to find out which trains they should take and their fares.
Most of the domestic transfer guidance apps are provided only in Japanese, but the following websites provide it in English. You can also check the fare, so please use it when you go out by train.
It is also a good idea to use the Google Maps app. You can check train transfers and fares on this app too.
How to Get on a Train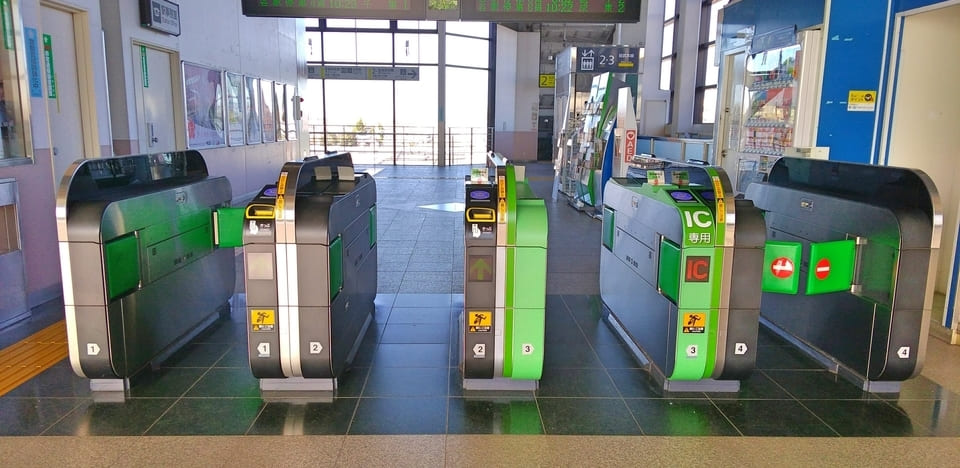 After getting a ticket or IC card, let's go through the automatic ticket gate to get on the train.
If you insert a ticket at the automatic ticket gate, it will come out near the exit of the gate through the inside of the machine. Be sure to take it as it is necessary to get out of the ticket gate at the destination station.
In the case of an IC card, just touch the panel with the IC card at the ticket gate.
After passing through the ticket gate, go to the platform where your train will arrive. When the train arrives, the door will open automatically.
Please note that in some areas, the door may not open unless you press the button on it.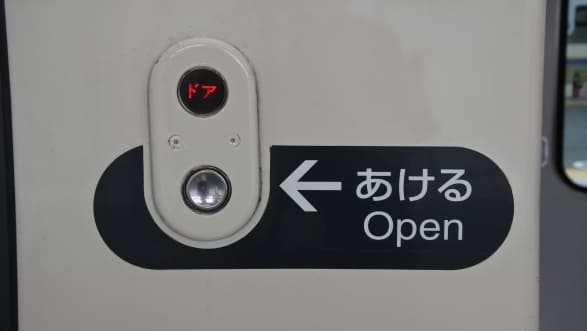 When you arrive at the target station, get off and go out through the automatic ticket gate with a ticket or IC card.
When Stopped at the Ticket Gate
If there is a problem, the ticket gate will close and you will not be able to pass through. If you get stuck, please check the following.
Is the Fare Enough?
Mainly when getting off, if the ticket amount or IC card charge amount is not enough for the fare, you will be stopped at the ticket gate. In that case, look for a fare adjustment machine.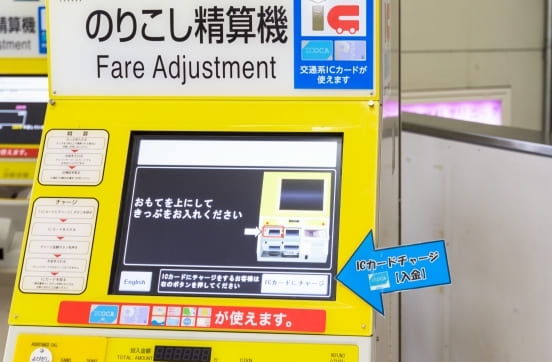 If you put the ticket into the fare adjustment machine and pay the difference, you will get a checkout ticket. Just insert it to the ticket gate like a normal ticket, and you can pass through the gate.
You can also charge money in your IC Card at the fare adjustment machine.
Did You Touch Your IC Card to the Reader Properly?
For the IC card to read at the automatic ticket gate, it is necessary to firmly touch the reader with the IC card for about 1 second.
If you touch the panel through your wallet or bag, or if you only touch it only for a moment, the IC card will not be read properly and the ticket gate will be closed.
In that case, please try it again.
Did Another Card Affect?
If you touch the reader with the IC card in your wallet, other cards may affect and prevent the ticket gate from successfully reading the transportation IC card.
In that case, take out the transportation IC card from your wallet and touch the reader firmly again.
If There Is Nothing Wrong
If you can't pass through the ticket gate even if there is nothing wrong with it, ask the station staff near the ticket gate. You can also pay the difference at the counter by consulting with the station staff when you can't find the fare adjustment machine.
Manners in Trains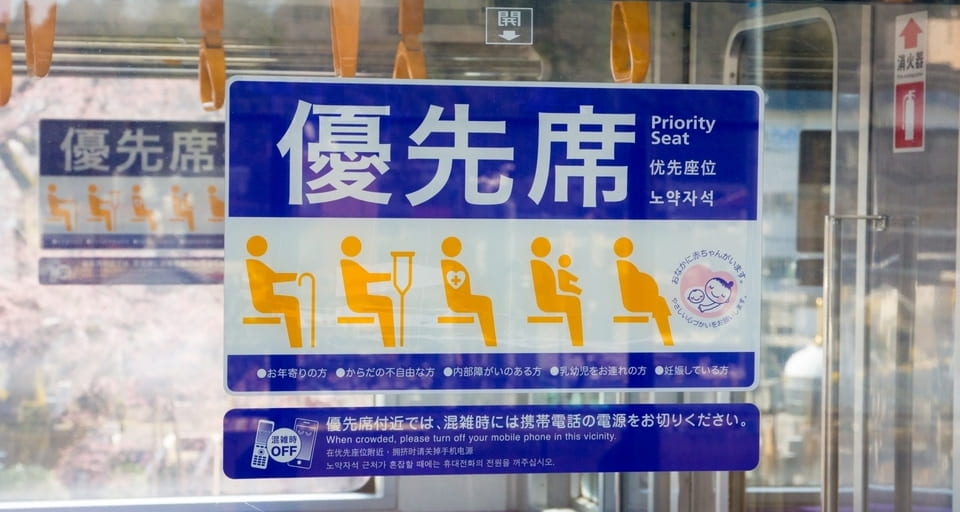 Here are some good etiquette that you should keep in mind when getting on a train.
Offer Priority Seats to the People Who Need It
There are priority seats on the train. This seat is prepared for the following people:
Elderly people
People with disabilities
Pregnant people
You can sit there when the train is not crowded, but if the people above get on and there are no other seats available, please offer your seat to them.
Refrain from Talking on the Phone
Most Japanese do not make phone calls on the train. Some people may mind it, so we recommend you to refrain from doing so to avoid troubles.
Hold the Backpack in front When Crowded
When the train is crowded, please hold your backpack in front and make more space on the train. If the rack above the seat is empty, it's best to put your backpack on it.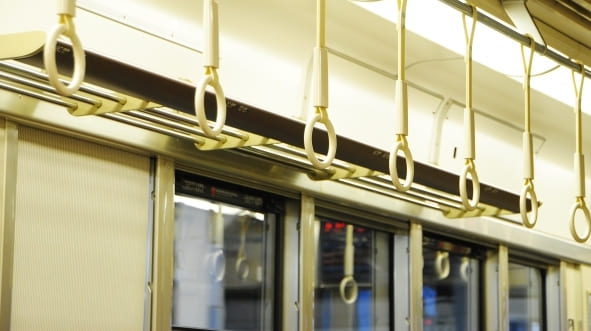 If you have a large luggage such as a suitcase and can't put it on the rack, try to put it in a position where it will not disturb other people.
Conclusion
Japanese trains, which are used by many people every day, are an important infrastructure, especially in metropolitan areas.
Although there are many train lines and that seems difficult, it should be possible to use them quite smoothly if you have a tool to check the transfer and fare, and an IC card!